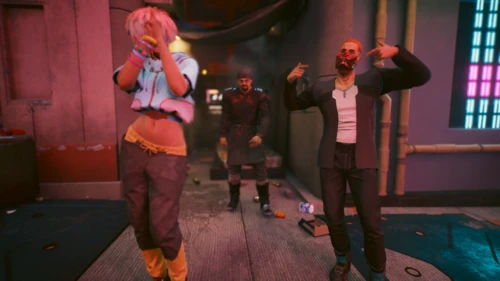 Yasahedo's Immersive Mod Pack 1.0
These are a collection of mods that I think make this game way better than its current state of play.
Revisions

1

Last updated

5 months ago

Created

May 18, 2022

Downloads

92
Description
With this collection of mods I have tried to put together a fair but challenging play though for all builds and playstyles out there. I also added what I thought to be a good mix of immersive mods but trying not to get too complicatied. With these mods enemies can be more deadly and cunning and the world around you just a little better. You will also need to maintain your sleep, hunger, thirst, and toxicity from overuse of medpacks.
Before you start
If your like me and you thought Cyberpunk was going to be the Bee's Knee's but ended up getting hot garbage instead then take my word for it choom and download this mod pack. Please set your difficulty to hard or very hard and using the custom level cap mod set your level cap to 80. Also if you do not use a PS controller please uninstall the PS5 controller bug fix.
---
Compatible collections
I dont know of any other complications with other collections if you find any let me know.
Bugs
the only bug I have ran into is sleeping at a DLC apartment DOES NOT RESET FATIGUE but if you save your game after sleeping at a DLC apartment then loading it back up it resets fatigue too zero.