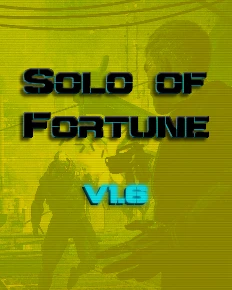 The Solo of Fortune Pack 1.6
The Solo of Fortune Pack is a modpack focused on improving and fixing Cyberpunk 2077 while maintaining immersion, and the game's overall balance. This pack is designed to be lore-friendly, feature-rich, and full of mods and tweaks that can smooth over frustrations and annoyances. Works as a standalone modpack, and as a platform to add to. This pack is an on-going work in progress, and more mods will be added as they're updated, or released!
Revisions

6

Last updated

20 hours ago

Created

Sep 18, 2022

Downloads

229
Description
The Solo of Fortune Pack is a mostly self-contained modpack full of mods I have found greatly enhance gameplay, improve quality of life, smooth out rough spots, and overall, make the game more enjoyable to play and re-play. This not meant to be a complete "this is all you need, nothing else" pack, but there are many mods here that will enhance your immersion, with plenty of room to add more.
(also: if there's anything not working, broken, missing, or even if you've just got a request for a mod to include, feel free to let me know, and I'll do what I can)
Main features
Well integrated, polished mods that enhance the game without breaking immersion, such as:
Metro System
Time Dilation Overhaul
GTA Travel
Vehicle Combat
Let There Be Flight (Flying Cars - Okay, this one isn't lore-friendly)
E3 2018 HUD
Arasaka Cyberarms
Drone Companions
JB Third Person Mod
Appearance Menu Mod
Car Modification Shop
Virtual Car Dealer (with all addon packs)
Respector & Neu Re-Spec
Missing Persons - Fixer's Hidden Gems
and many more!
There are also a wide number of bug-fix, QoL, or tweak mods that will not do something dramatic - like add a monster truck - but will make your moment-to-moment gameplay that much smoother.
Enhanced Craft
Custom Quickslots
Mark to Sell
Disassemble as Looting Choice
Better Vehicle First Person
Fast Launch (launch directly to the main menu)
Pocket Radio
Real Vendor Names
RelicBeGone
Ranged Attack Speed Damage Fix
Optical Camo Bug Fixes
and again, many more!
Finally, just to mention them, I've also got a swath of other mods' pre-requisites as well, like:
TweakXL
ArchiveXL
CyberEngineTweaks (of course)
Redscript
Red4ext
Input Loader
Material and Texture Override (no mod in this pack currently uses it, but it's here in case you need it)
and more . . .
Before you start
This mod pack is designed for game version 1.6, and Very Hard difficulty. I'd highly recommend making a new save for this modpack, but you can very likely get by on existing one if you're okay with occasionally encountering bugs related to it. Make sure you install at very least, Cyber Engine Tweaks, redscript, red4ext, and the two XL mods, if not all of the pre-reqs above. Also make sure to launch the game normally at least once so that you can enable RedMod mods, or else they won't work.
Requirements
All mod dependencies are installed within the pack, but if I'm missing anything, please let me know and I'll do my best to add it ASAP.
Best practices
Generally speaking, you want to install pre-requisites first, so if you don't already know what to do here, you'll probably want to start with these:
Cyber Engine Tweaks
redscript
red4ext
ArchiveXL
TweakXL
cybercmd
Native Settings UI
Mod Settings
Input Loader
CTD Helper
Once you've got those installed, I'd recommend running the game and testing to see if all of these load. If you don't run into serious issues, feel free to proceed! If you do, try verifying your game installation, or reinstalling the mods before seeking more drastic solutions.
From there, you're pretty much free to install each as you see fit, though do pay attention to the instructions in the mod collection as well as the mod author's instructions. If you're really not certain which mod requires what, each mod page has a requirements tab on its description page that shows both what requires it and what it requires. You can reach the mod's page by right-clicking on it in your "Mods" tab in Vortex, and clicking "Open on Nexus Mods".
Also, be aware, more complicated mods with more moving parts are more likely to have issues, so don't be surprised if the Metro System mod, or something like Let There Be Flight starts giving you more crashes. Don't be afraid to roll back some of the mods if they're causing issues. What value is a particular mod if you can't play the game more than five minutes at a time between crashes?
---
Recommended specs
My setup is fairly decent, but there isn't anything here like reshades, or RTX stuff that'll directly tank your frames. Here are my specs, and I get a decent 60-90 FPS most of the time on maximum settings at 1080p, so make of it what you will.
i9-10850K NZXT Kraken X 32GB RAM ASUS GTX 1080 Samsung SSD