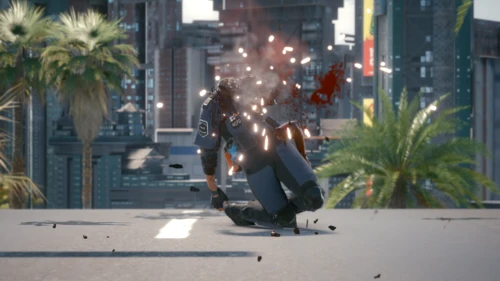 Brutal Cyberpunk 2077 V.2
🤖Cyberpunk with modifications that changes the mechanics of the game much more difficult and brutal (More Blood but for average computers that there are no big drops in FPS🦾🖥️). Refreshed E3 graphics, and various methods of transport as well as driving mechanics much better. In addition, Vehicle Modifications at the mechanic's as in GTA V🤖
Revisions

7

Last updated

21 hours ago

Created

Sep 19, 2022

Downloads

78
🤔What You Need To Know🤔
-Any problems, bugs, modification bugs after new updates are caused by the mods of the creators and not by me.
-For example, if a character's skin has bugs or weapons or npc, they are simply caused by mod bugs that I can't fix because I'm not their developer.
-And any mod file complications. Vortex will set it up for us (You have to click "USE SUGGESTIONS") so that there are no complications with mods..
-But the modifications that I choose, I try to choose so that there are no file complications so that the game looks decent and beautiful without bugs
-I will add some new photos from time to time so that you can have what these modifications look like in the game
---
🤗Vote🤭
You can always vote, then I will know if you like the new mods in the new package.
---
😓Before you start😉
Install Mods manually such as. And you need to read the instructions for installing the modification from the developer:
Requirements
Appearance Menu Mod
AMM Car Modification Shop
Thicker Beard for Johnny
---
🖥️My specs🖥️
The game runs smoothly at 58-75 FPS with these specs.
RX 570 8GB
GOODRAM 16 GB 2666Mhz
Ryzen 3 3200G
---
Compatible collections
🥔Eeeeeee idk Potato🥔