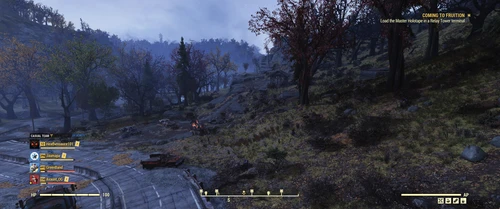 This collection is built with very basic mods to create a simple and easy setup experience with Fallout 76. This has been tested for over 100 hours, there are virtually no bugs or issues. Important: Currently SFE is broken so text chat does not work! You will have to manually install it once it's been updated to work. https://www.nexusmods.com/fallout76/mods/287 All mods in this package can be enabled just fine, even if they are outdated so don't worry. This mod list is a basic list that will dramatically improve your gameplay experience.
Revisions

2

Last updated

3 weeks ago

Created

Mar 03, 2022

Downloads

3
I did not add a map mod into this list, that must be chosen yourself and downloaded separately. This is due to the fact that there are far too many map mods out there and they are all great mods and its really up to you to choose your personal preference.
I strongly recommend TZ Map found here: https://www.nexusmods.com/fallout76/mods/419
The one I personally use is the Wasteland all markers version. I had to manually install it due to bugs with Vortex.
What does this do? This mod list will improve FPS, make it easier to manage your inventory, give you more information, and much more! The mod authors for all these mods have really outdone themselves.
I take 0 credit here, this was just a basic upload on my part.
Known Bugs: Few, apart from Fallout 76 own bugs, you should encounter no noticeable bugs from this mod list. It is an extremely basic and easy-to-use mod list with the sole intention of providing you with a slight overhaul at the cost of nothing. However, there are some shader issues when viewing waters in the long distance from the texture overhaul mod pack, however, I don't mind this as it makes up for it by increasing FPS by up to 15 on average. These will likely be fixed in future updates. I have not encountered any other bugs and the shader glitch is likely due to my UWHD 35-inch 2k monitor.