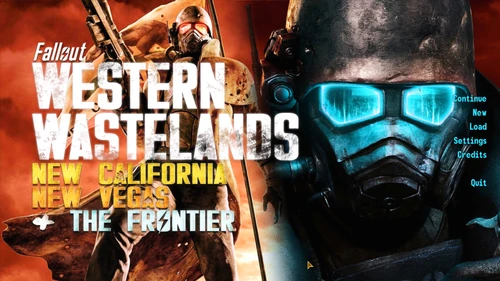 FALLORE NV. Is the western trilogy. and Is a modlist intended for lore and immersion junkies as well as new player's. LORE FRIENDLY. 100% PLAYABLE as of 9/26/2022. CURRENTLY unsupported LIFE is currently too busy. ONE DAY i will completely remake this and have a complete support schedule just not right now.
Revisions

1

Last updated

7 days ago

Created

Aug 16, 2022

Downloads

16
FALLOUT NEW CALIFORNIA, FALLOUT NEW VEGAS, FALLOUT THE FRONTIER. three games three stories of the legendary courier.
FALLOUT NEW CALIFORNIA and FALLOUT THE FRONITER added in. are the main story focus of this modlist. enabling a prequel and sequel to the adventure of the courier of the mojave. as well as FPGE.
UNCUTS all possible removed content of the game.
modern mechanics. and bug patched and fixed.
someguy2000 series of mods. and tales of new reno to add in more quests and stories to enjoy.
if you want more detail then this then I GUESS YOU HAVE TO DOWNLOAD AND GO EXPERIANCE THIS AMAZING FALLOUT.
Requirements HARDWARE. I use and suggest a RTX 2070 super and 11th gen intel minimum for stable average of 70fps on a 4K monitor. SOFTWARE. steam version of FALLOUT NV ULTIMATE. is recommended. for its the version this was tested on.
please follow gamerpoets guides for a clean install and Massive FPS and STABILITY upgrade.
https://www.youtube.com/watch?v=_1Yu1mdyF0s
https://www.youtube.com/watch?v=SzT_64LF_Dg
Best practices 1. please message me of any issues before giving me a bad rating so I can fix it while keeping this modpack appealing to newcomers. also if you crash remember it probably is not the mods but a Bethesda game issue. if it is a mods please let me know asap. so I can fix it.
ALSO THE IMAGE I found in a mod used for the main menu replacer thought it worked perfect so to guy or gal who made it if you want me to change it message me using the collection message system ill change it ASAP if your fine with me using it great. if not i hope we can work something out.