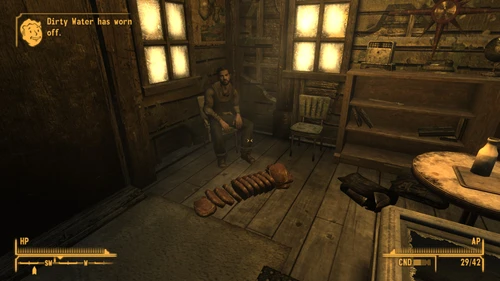 This is my personal collection, that focuses on immersion and gameplay, with minor texture overhauls. Some reworks will be done upon bug reports. Hope you enjoy! :)

Nifftycheeseballs
Last updated:
|
Published:
Description
This describes the main purpose of this collection. This is my personal collection, that focuses on immersion and gameplay, with minor texture overhauls. --- Requires VanillaUI+
Main features
These are the core mods and main features of this collection.
---Clean vanilla ui, general retextures, and minor gameplay changes. Includes WMX.
Before you start
Vital information regarding this collection.
Requirements
NVSE newest version https://github.com/xNVSE/NVSE
Vanilla UI+ https://www.moddb.com/mods/vanilla-ui-plus
Best practices
---
Recommended specs
Hardware setup suitable for this collection.
These are my computer specs so you might not need this much hardware...
GPU 8gb
RAM 12gb
CPU Ryzen 7 5800x
---
Compatible collections
Other collections that can be installed alongside this collection.
At the moment I'm unsure what is compatible...
Mods By
No mod authors found