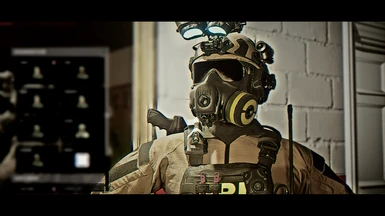 Revisions

1

Last updated

2 months ago

Created

Aug 16, 2022

Downloads

5
Description
Building a list for balanced and immersive gameplay as the FBI Unusual Incidents Unit.
---
Main features
-Incredible AI and gameplay overhaul from qadoom
-Lore-friendly and realistic UIU uniform/patches
-GPNVG's that can always be toggled and seen
-Better flashlights and dark gameplay with the surefire flashlight mod and constant nod availability
-Very tacticool Avon M50 replacer for the gas mask
-"BR2" Galvion Caiman Hybrid Ballistic Mandible Guard replacing the standard "cryeframe" ballistic mask (I don't remember the actual name
-20 slots to fill with munitions (no more excuses for a flashbang shortage -_-)
-<🆃🆁🅰🅽🆂🅼🅸🆂🆂🅸🅾🅽 🆁🅴🅲🅴🅸🆅🅴🅳> 🆁🅴🅿🅾🆁🆃🆂 🅾🅵 🅰🅽🅾🅼🅰🅻🅾🆄🆂 🅰🅲🆃🅸🆅🅸🆃🆈 🅸🅽🆅🅾🅻🆅🅸🅽🅶 🅰 🅽🆄🅼🅱🅴🆁 🅾🅵 🅴🆂🅲🅰🅿🅴🅳 🅳-🅲🅻🅰🆂🆂 🅵🆁🅾🅼 🆁🅴🅳🅰🅲🆃🅴🅳 🅰🆁🅴 🆂🆄🆁🅵🅰🅲🅸🅽🅶 🅰🅼🅸🅳🆂🆃 🆃🅷🅴 🅻🅾🆂 🆂🆄🅴🅽🅾🆂 🅳🅾🆆🅽🆃🅾🆆🅽 🅰🆁🅴🅰. 🅲🅾🅽🆃🅰🅲🆃 🆄🅸🆄. 🅲🅻🅴🅰🅽 🆂🆆🅴🅴🅿. <🅴🅽🅳 🆃🆁🅰🅽🆂🅼🅸🆂🆂🅸🅾🅽>
---
Before you start
Just install all .pak files into the paks folder of your Ready Or Not installation.
Requirements Should be self-contained as far as requirements go.
Best practices I highly recommend downloading the Case 478 - Suspect VO just for additional creep factor and immersion as you're making your way through meth hellhouse.
---
Recommended specs
Just what the game requires.
---
Compatible collections
Unknown at present. If it doesn't effect swat appearance, ai or the aforementioned mods then it should be fine. (Ex. map mods, sounds etc. all should work)