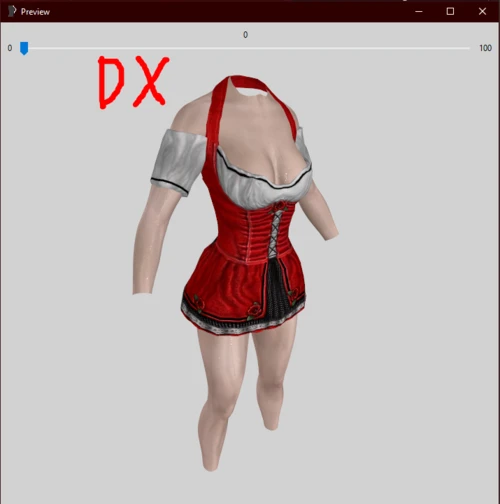 VR Armors+ DX+More Tutorial CBBE
This is meant to be an additional mod to my v2 All in One Collection however, you may use this if you just want the DX clothes to work and you come from the Emporium or All in One collection page. 🟥🟥🟥🟥🟥🟥🟥🟥🟥🟥🟥🟥🟥🟥🟥🟥🟥🟥🟥🟥🟥🟥🟥🟥🟥🟥🟥🟥🟥🟥🟥🟥🟥🟥🟥🟥🟥🟥🟥🟥🟥🟥🟥🟥Also, other armors will be included in this soon so this will just become a complete clothing addition to your VR game. I be including whatever armor I think is interesting and that can be accessed through AddItemMenu or crafted.
Revisions

8

Last updated

1 week ago

Created

Sep 17, 2022

Downloads

19
Please Check Link for Requirements
Requirements on this Page: https://www.nexusmods.com/skyrimspecialedition/mods/33690
DO NOT download that mod because it is already included in this collection. Only it's requirements. Faster HDT-SMP also included here.
My ALL IN ONE Collection: https://next.nexusmods.com/skyrimspecialedition/collections/id1qll
Ignore if from other places.
If you have SKYRIM UNOFFCIAL PATCH, it will highly likely screw up things. It messed with this apparently.

However not the compatibility patch and the old version of USSEP. They are fine. They're actually the only patches that work with VR.

NOTE: This may be quite costly on fps. I only recommend placing these armors on 1 Npc at a time. Unless if you have a powerful god pc, which I don't.
You will need CBBE, 3BA, CBPC, XP32, RaceMenu w/ HighHeels and Bodyslide Studio. These are all included in my All in One but also included below the modding page if you come from All in One DX or Emporium.
What you need first (Step #1)
YOU WILL NEED DX ARMOR MODS OF YOUR CHOOSING!
I have installed some DX mods listed below and you will see which ones you've installed when you go to this man's mod page. He has many clothes mods.

You may skip step if you are fine with this clothes selection.

REQUIRED DX Mods: https://www.nexusmods.com/skyrimspecialedition/users/3373573?tab=user+files
DX Mods Included in this:
Black Widow

Cassandra Apocrypha

Cassandra Frost Witch

Demon Armor

Druid Armor

Gwelda Red Riding Hood

Gwelda Vampire

Stella Mithril Armor

Tembtra Thief Armor

Wild Huntress

Witch Hunter Armor

Witcher Armor

Merta Black Rose

Succubus Armor
---
Also Included: (NOT A STEP)
4 Bodyslide Presets: Maybe used later
Simple AddItemSpawner Spell: Can be added to spells through MCM in game.
Not included:
CBBE, 3BA, CBPC, RaceMenu, High Heels, Bodyslide Studio, XP32 [VERY HARD REQUIREMENTS]
These are all included in my All In One collection. If you already have those all, then you might be fine to install this however, I do not know what all the required mods are at this moment in time because I already have everything, and this is meant to be installed after my collection.
Body Textures. (I recommend both Demonaic texture and Diamond bodyslides)
---
Step #2: The 3BA Emporium Modular
You may skip step if you are fine with this clothes selection. Should be done when downloaded.

This mod is included in this with ths collection, HOWEVER, if you do want to install more armor mods in the previous step, you will need to reinstall this large mod and only checkmark the 3BA bodyslides for your armor mods. Do not checkmark anything else but these 3BA bodyslides. ONLY FOR YOUR DX ARMOR MODS.
---
Step #3: Removing or Disabling ESPs
In Nexus Mod Manager, you will need to go to the Plugins tab. (Media Pic #1)
From here, you will need to disable or remove the DX ESPs that are included in the original DX UNP mods because we are not using UNP. We are using CBBE 3BA which is just plain better. (Media Pic #2)
Search the DX armors you have installed and disable all of the ESPs for them. (Media Pic #2)
HOWEVER, DO NOT disable DX Armors All in One. (Media Pic #3)
If a single one of these isn't disabled, AddItemMenu WILL NOT WORK, and the armors might just not appear at all.
---
Step #4: The Bodyslide Physics Conversions
Bodyslide builder can be found in the file location in the picture. OPEN THE .EXE and run bodyslide. (Media Pic #4)
Next, you should have opened bodyslider studio when you have done this. You may also pin this .exe to dashboard so you don't have to waste time going to it every time.
The very first thing you want to do is click Filter by Group and then click Choose Group checkmark every DX modded armor you have downloaded. This is by far the most important step if you want to not waste a ton of time. When you are done with that, click OK. (Media Pic #5)
Now you want to open one of the DX armors you've downloaded in BodySlide Studio. This armor needs to have the body showing so you can mess with the Body Presets. After you have clicked the armor that you want to base your body off of, click preview at the bottom of the screen. I will just be using Riding Hood in photo. (Media Pic #6)
Note: More CBBE 3BA Presets can be found on Nexus if you wish to have other body types.
Recommended: Change Bijin Family bodyslides in batch builder.
---
Step #5: Batch Building in Bodyslider
This is also very important if you wish to save a bunch of time.
Note: To change body weight, use the slider at the top of the preview. You can configure which weight you want from there.
Now that you have preview opened and found your perfect body, you want to click Batch Build... in the bottom left. (Media Pic #7)
Click build on the new Batch Build Menu that shows up. It is a small box. (Media Pic #7)
If something pops up that says you need to pick between physics and non-physics, pick physics for everything and continue. This is a major requirement if you want this to work.
You're done now.
If you want to get these items, you can open the All In One .ESP with the AddItem Spell or just download the manual book that shows you the locations of these books and helps you find them. I just wanted the items so I used the Spell. The spell must be added through MCM and when you open the All In One armor .ESP, make sure you switch to the armors page or you might crash because I did.
---
Optional Armors in this Collection
These are at the bottom of the mod list.
In order to apply physics to all of them, apply the the Physics, 3BBB, and 3BBB SMP in Batch Builder like you did in the previous step. SMP is more important than basic 3BA and 3BBB so apply the 3BBB SMP option over the others. If that option doesn't exist, select 3BA and then 3BBB.