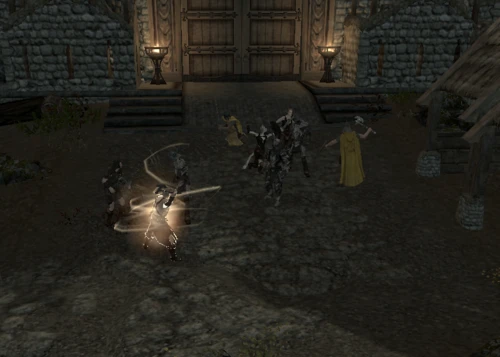 Untested collection overhauling nearly all of SSE's gameplay and feel - while remaining relatively lightweight for ease of use and STR compatibility
Revisions

2

Last updated

3 weeks ago

Created

Sep 08, 2022

Downloads

6
Description
Simple pick-up collection to play either solo or with Skyrim Together Reborn - STR is not included It hasn't been tested much yet, so play at your own risk!
---
Main features
Overhauled Magic, Combat, and Progression Several Mods Adding New Enemies Dozens of Mods Adding New Armor and Weapons Frostfall, Campfire, and iNeed for Immersion 1k-2k Textures for Most Objects, as well as overhauled Lighting and Sounds
---
Before you start
THIS COLLECTION HAS HAD LITTLE TESTING!
Requirements
Best practices
Make sure to check your levelled lists in wryebash, just in case some mods don't get added properly - Better safe than sorry.
Start a new game and keep multiple save files - as you always should with a new modlist!
---
Recommended specs
Unknown, but i get a solid 20fps on a potato...
---
Compatible collections
Probably not many, it's pretty extensive for being relatively lightweight on the engine/pc