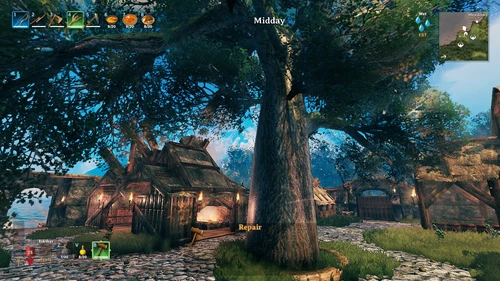 A mod list that I built through trial and error with various things I liked and tested thoroughly, meant to improve the experience of Valheim.
Vaevis
Last updated:
|
Published:
I had an entire thing written here and accidentally closed the tab and lost it, so Ill rewrite it later after Im done raging.
Long story short: it improves many aspects of the game, tweaks a bunch of stuff, adds enchantments on equipment, build camera, and a bunch of other stuff. Check the mod list for whats in it.
Also as part of this collection I include several mods that must be manually installed as per the creators instructions:
DualWield by Smoothbrain (double the fun) https://valheim.thunderstore.io/package/Smoothbrain/DualWield/
NoFogBob's - Less Terrifying Blizzards (multiple options, usually enhances fps in blizzards and improves look) https://www.nexusmods.com/valheim/mods/1431\
NoFogBob's - BuildFog-Be-Gone (removes dust poop when building/leveling ground) https://www.nexusmods.com/valheim/mods/1467
Realistic Animal Sounds (truly makes for a better immersion, the needed dependency, Custom Audio, is in the mod list, despite having a vortex download that is NOT advised as it doesnt work, it has to be manual) https://www.nexusmods.com/valheim/mods/574
Willybach's HD Valheim (amazing texture pack, up to date and most complete, best looking and best one overall in my opinion, different resolution options for your performance) https://www.nexusmods.com/valheim/mods/1030
Candyman's Realistic Foliage (beatifully realistic foliage, install after Willybach's HD Valheim) https://www.nexusmods.com/valheim/mods/819
Includes mods from
33 authors
No mod authors found