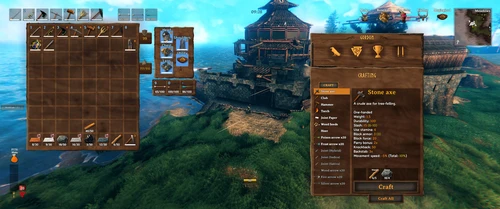 UI/HD Overhaul + QOL Tweaks
Tons of UI tweaks and other mods, mostly optional, all tested and configured together. Please read the about for proper configuration.
Revisions

4

Last updated

5 months ago

Created

Mar 29, 2022

Downloads

15
Mostly QOL/ interface changes, some additional building pieces, gates, doors, bridges, ships, shelves etc. The closest mods to cheating are Death Tweaks, Carry Weight Skill, Rocky Ore Mod, and Unrestricted Portals. Most of the other settings are very flexible. Both 4k and 2k textures are installed for Willybacks HD Valheim, please choose the one most suitable to your system.
IMPORTANT: When installed additional textures/HD packs be sure to update the "Custom Graphics Settings" plugin via the in game config manager, locate "StreamingMipmapsMemoryBudget" and adjust it to match your video cards total memory (or a bit less). This change alone often causes big gains in FPS, Valheim is not well optimized for HD content so this setting is crucial for any HD packages.
IMPORTANT: For using "Extended Player Inventory" in combination with "Equipment and Quick Slot's" and "Better Archery", the "Better Archery" arrow quiver MUST be disabled or the game will not load, to do this open your config manager (F1) at the start screen and adjust the relevant settings there before loading your game. Also disable "DisplayEquipmentRowSeperate" for EPI, and enable Equipment Slots and Quick Slots in EQS. For maximum compatibility. For EPI I recommend adding 3-5 for "ExtraRows" to be able to utilize the "Carry Weight Skill" mod.
Carry Weight Skill: I suggest 5 to 7.5 for the "CarryWeightGainedPerLevel" config.

Death Tweaks: a bit cheese but the natural penalty is obscene, tweak to your own desires.

Rocky Ore Mod: a bit cheese, tweak to your own desires. I leave "DropEverywhere" disabled, and "DropFromTerrain" enabled. This restricts the ores dropped by terrain to there local biome, so no iron/silver etc in the meadows...
I think thats all the important info....