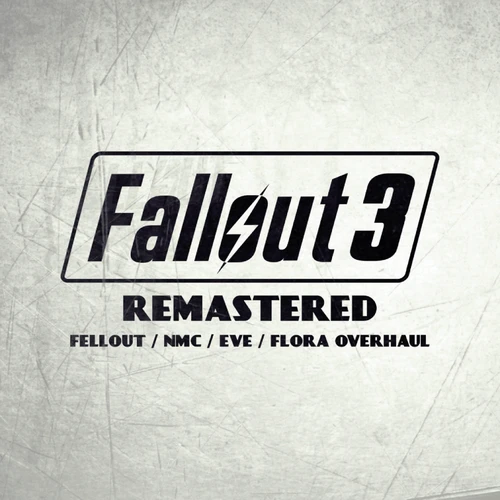 Fallout 3, but better looking. Includes Fellout, NMC, EVE, Flora Overhaul (dead edition), Remastered Pip-Boy icons and a few more texture packs including 4K textures for terrain. No gameplay changes whatsoever, only visuals. A true vanilla experience of F
doodles33
Last updated:
|
Published:
Description
Fallout 3, but better looking. Includes Fellout, NMC, EVE, Flora Overhaul (dead edition), Remastered Pip-Boy icons and a few more texture packs including 4K textures for terrain. No gameplay changes whatsoever, only visuals. A true vanilla experience of Fallout 3.
---
Main features
Fellout
Fallout 3 Reanimated
Fallout 3 Redesigned
NMC Max textures
Energy Visuals Enhanced
GNR ennhanced
Pip-Boy icons remastered
Flora Overhaul (dead edition)
Smooth Light (better flashlight)
4K textures and a few other texture packs
---
Before you start
I have not tested this collection with more mods, other collections, or any game changing modification. Be aware this is a very simple setup for people who wish to play Fallout 3 unmodified (including a few bugs) but with better looking graphics, without an ENB and huge FPS loss.
This collection does not include FOSE or any mods that require it as I haven't been able to run it on Linux, that does not mean you can't add it later if you want to. I might add it eventually if I get it to run and find that some mod is worthwhile adding.
You CAN use this collection with an existing save-game as I have not included any significant bug patches which break existing save-games.
Requirements
Some mod manager, I recommend Vortex
All DLCs will be good, but not necessary
Best practices
DO use all the mods for a better experience
DO use bInvalidateOlderFiles 1
DO NOT use an ENB if you want good performance
DO NOT use TTW or other game changing mod if you want to avoid introducing bugs
---
Recommended specs
GPU: GTX 950 2GB or better
RAM: 4GB or more
CPU: Anything made in the last 12 years
---
Compatible collections
No idea, give me feedback and I will add information here.
Includes mods from
34 authors
No mod authors found