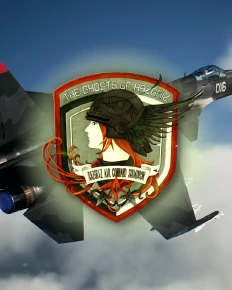 Razgriz Squadron
Take to the skies in recreations of the classic black-and-red livery of the Razgriz Air Command Squadron, the heroes of the Circum-Pacific War.
Revisions

3

Last updated

3 months ago

Created

Oct 07, 2021

Downloads

24
When history witnesses a great change, Razgriz reveals itself...
If you played Ace Combat 5: The Unsung War or browsed through the DLC of Ace Combat 6: Fires of Liberation, you're well aware that every single aircraft in those games had a skin for Razgriz Squadron, the reborn demons that put an end to the Circum-Pacific War.
In that vein, talented modders have recreated Razgriz's livery for multiple aircraft in Ace Combat 7: Skies Unknown. This collection allows you to download and install every Razgriz mod currently available!
---
What aircraft are included?
During the installation process, you can select which skin slots you'd like to replace on each aircraft. Keep in mind that some mods do not have every skin slot available.
---
Where's the F-14D and the X-02S?
The Razgriz skins with Blaze's number for these aircraft are available through paid DLC. Modding these skins would be circumventing the paid DLC, so they're not allowed.
Success rate
The percentage of users saying this revision is working as expected.