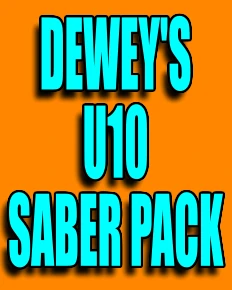 This is a collection of U10 Light Saber and Kyber Crystal Mods

DEWSTREAM
Last updated:
|
Published:
This collection provides U10 Saber and Kyber Crystal Mods all in one pack to save you from searching down all the current mods
---
The collection contains The Outer Rim as it adds most of the light sabers and some kyber crystals. I have added some extra mods that contain new sabers and new kyber crystals so that you can hopefully put together the saber of your dreams for any situation you find yourself wanting to be in.
---
Please let me know if there are any new U10 saber or kyber mods available, or if there are any updates I have missed.
---
There are no external requirements, the pack should contain all mods needed.
---
The collection should run well on most systems, if you're experiencing lag and freezing when sabers collide and you are using the Rift S, I personally have found that the USB port being used is to blame, switching to a different USB 3 port might solve your issue as it has for me many times I find myself accidentally plugging into the wrong port.
---
I imagine most other collections are compatible, but please do let me know if any are not, so I can test and update this here.
Thank you :D
Mods By
No mod authors found