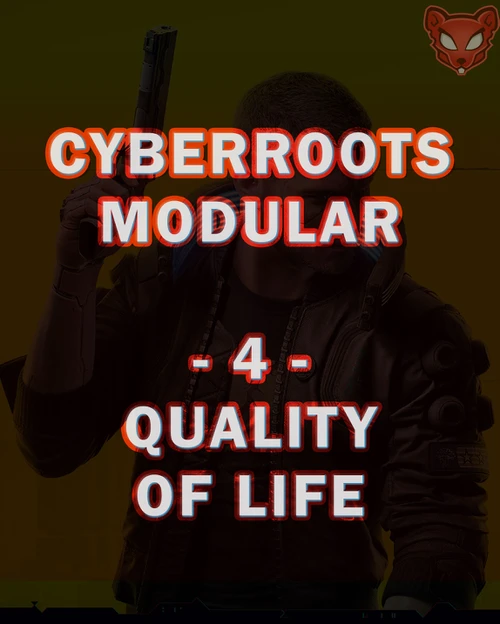 [CRM] 04. Quality of Life
CyberRoots Module 4: Quality of Life. Optional module. Small mods that matter.
Elenear
Last updated:
|
Published:
Description
CyberRoots Modular (CRM) is an advanced modbuild, which aims to overhaul Cyberpunk 2077.
The goal is to make the game more interesting by expanding the gameplay and adding new features and content, as well as improving performance and visual aspect of the game.
Suitable for all playstyles

Suitable for role-playing

Modular nature allows to mix and match CRM collections.
---
Main features
Lore-friendly and realistic approach - The mods are select with lore and realism in mind, but avoiding a total purist approach.
No cheats, silly and OP mods - This won't make your edgerunner's life easy. Quite the opposite.
Advanced modbuild - CyberRoots consists of over a 100 mods altogether.
Recommended settings - The mods are tested on a new playthrough and endgame setting. The recommended settings are balanced to make the game more challenging, but not overly difficult.
Modular nature - The whole modbuild is a series of collections with [CRM] tag. You can mix and match the collections at will.
---
Before you start
Requirements
Vortex Mod Manager - https://www.nexusmods.com/about/vortex/
RedMod DLC - https://wiki.redmodding.org/cyberpunk-2077-modding/modding/redmod
CyberRoots Module 1 - https://next.nexusmods.com/cyberpunk2077/collections/iyomov
---
CRM Module 4: Quality of Life
This module is an optional module in CyberRoots Modular series. Read the installation instructions below!
This module includes improvements to various aspects of the game. Small mods that matter. Read the mod descriptions for more details.
Create, store and try different builds switching them on the fly while playing
Respec both Perks and Attributes
Mark items to sell on the go - move them to Junk tab
Hide read shards to de-clutter the world and your scanner.
Name save games
Better Scrapper perk logic - auto disassemble clothes, weapons, mods, grenades and healers depending on item quality (100% configurable!)
---
Instructions
READ EVERYTHING BEFORE PROCEEDING!
1. Install the mods
Install all mods into Vortex.
2. Post-Deployment actions
Configure Smarter Scrapper in game main menu.
---
CyberRoots Modular Collection Series
All of my collections with the [CRM] tag are compatible with each other
Extenders - https://next.nexusmods.com/cyberpunk2077/collections/iyomov
Bug Fixes - https://next.nexusmods.com/cyberpunk2077/collections/kckdnc
Better HUD & UI - https://next.nexusmods.com/cyberpunk2077/collections/yqprlm
Quality of Life - https://next.nexusmods.com/cyberpunk2077/collections/cqu4j2
Visuals and Graphics - https://next.nexusmods.com/cyberpunk2077/collections/9mrjzx
Environment and FX - https://next.nexusmods.com/cyberpunk2077/collections/hnagve
My Name is V - https://next.nexusmods.com/cyberpunk2077/collections/4esn3e
People of Night City - https://next.nexusmods.com/cyberpunk2077/collections/dpqjpc
No Place Like Home - https://next.nexusmods.com/cyberpunk2077/collections/plqzdm
Gameplay Enhcanced - https://next.nexusmods.com/cyberpunk2077/collections/jwc4w4
Combat Enhcanced - https://next.nexusmods.com/cyberpunk2077/collections/rr90m1
Weapons to Kill For - https://next.nexusmods.com/cyberpunk2077/collections/1v6mn2
Drezz 2 Imprezz - https://next.nexusmods.com/cyberpunk2077/collections/3cq2n7
Toys R Vs - https://next.nexusmods.com/cyberpunk2077/collections/009vee
V's Vrooms - https://next.nexusmods.com/cyberpunk2077/collections/yxymxu
Night City DJ's - https://next.nexusmods.com/cyberpunk2077/collections/hubqje
And if you'd rather install the whole overhaul as a single collection, now we also have:
CyberRoots Preem - Full Overhaul - https://next.nexusmods.com/cyberpunk2077/collections/zskawt
Mods By
No mod authors found