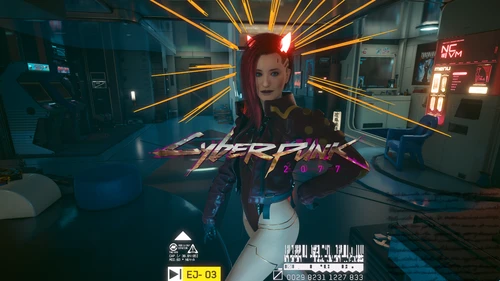 Samwise: Ultimate Cyberpunk 1.6
Wake the fuck up Samurai.
Revisions

6

Last updated

14 hours ago

Created

Feb 17, 2022

Downloads

21,069
READ BEFORE INSTALLATION
REQUIRES REDMOD AND ENABLED MODDED GAME
I am not responsible for your game saves, please make back ups before downloading.
Huge shout out and thank you to all mod authors!
This is my personal list (more or less) of the mods I use when playing Cyberpunk. Ranging from gameplay changes, better controls, to aesthetic overhauls and custom outfits, this is quite the collection. The games runs at a smooth 100+ fps for ME. This experience may not reflect your own, I put way too much into my current PC. If you experience any FPS drops I recommend disabling any high resolution texture mods. You will have to play around to see what your system can handle.
If you enjoy this collection, PLEASE endorse the mod authors, they are the ones putting in the work!
---
NOW UPDATED FOR PATCH 1.6
---
I have removed the mods causing issues loading into the game for the time being. Everything SHOULD be working as intended.
If you experience any issues or bugs please let me know and I will do my best to assist you, however life has gotten very busy and I do not have the time I once did.
There are a few more mods that I am waiting on to be updated for patch 1.6, so expect some revisions to this collection.
---
This collection uses a custom body for female V. You will not be able to change breast size in-game. If you would like to change the body type you will need to re-download this mod here:
https://www.nexusmods.com/cyberpunk2077/mods/1424
Or you can remove it altogether if you would rather have the default in-game body/options.
---
MISTY APPEARANCE OVERHAUL
If you would like your Misty to be the goth babe she was always meant to be, you will need to manually download and install this mod here:
https://www.nexusmods.com/cyberpunk2077/mods/1528?tab=description
---
BODY MODS FOR JUDY, PANAM, & EVELYN
If you would like for either Judy, Panam, and/or Evelyn to have unique body shapes from the rest of the NPCs in Night City, you will need to download their respective files from this mod here:
https://www.nexusmods.com/cyberpunk2077/mods/1424?tab=files
Be careful as to only choose one body type per character and to remove any access .archive files.
---
MISSING BODY TEXTURES
Alright everyone with body issues; Make sure you've downloaded the REDmods. When you have, go to game folder and find "REDprelauncer.exe". For me it started the game automatically first time, but I just closed the game and used that again, so it opened the RED launcher. There's the gear right next to "Play", from there toggle "Enable mods" and launch the game. After that missing body is fixed.
Thank you to anamorphica for the solution!
---
ROMANCING PANAM AS FEMALE V
Open CET and navigate to the Respector window
Go to the Quick Tweaks tab
Then, a small window will open. In the search tab type "Panam". Look for the "Panam Romanceable'" Fact. It should be "NO" by default.
Click on the "NO" button and it should says "YES" now and it turns green.
Close CET. Save and reload. You should be good to go.
APARTMENT OVERHAUL
To enable the Street Kid Techie Apartment, follow these steps:
Download AMM from here: https://www.nexusmods.com/cyberpunk2077/mods/790?tab=files

After installing AMM, move the Street Kid Crash Pad Techie.json file (found in the game directory) to AMM's DECOR folder-- the full install path depends on where you installed Steam/Cyberpunk, but it's usually:
C:\Program Files (x86)\Steam\steamapps\common\Cyberpunk2077\bin\x64\plugins\cyber_engine_tweaks\mods\AppearanceMenuMod\User\DECOR
Once you're inside the game, open CET using your hotkey (default is ~). Click on the Appearance Menu Mod UI and click the DECOR tab at the top

Below that tab, click the PRESETS tab then click the drop down box. Select Street Kid Crash Pad Techie from the list
And you're done!
---
BY DOWNLOADING THIS COLLECTION YOU AGREE YOU HAVE READ ALL OF THE ABOVE!
*SEE YOU IN NIGHT CITY CHOOMS!