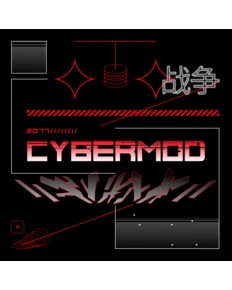 Welcome to CYBERMOD. A brand new MoD pack for Cyberpunk 2077 that give you that Vanilla Experience with with lot's of quality of life changes and improvements that makes the game feel alot more alive and interactive.
Revisions

1

Last updated

3 weeks ago

Created

Sep 13, 2022

Downloads

28
Description
This Mod Pack for Cyberpunk 2077 is A Vanilla+ experience which will give you all the core gameplay and stories and characters you love but with the additions of some wonderful mods that enhance your UI, Add a portable wardrobe, Gives flexible customizability of choosing how you play and how you start and much much more.. .
---
Main features
The Main Mods and features of this collection are as follows..
-Draw Distance Boost (Increase Draw Distance) -InventoryMaid (Inventory, Equipment Manager) -Improved Traffic And NPC's (Improved Density And AI) -Immersive First person (Improved Body Presence) -Judy And Misty Alternate Clothes (More Clothing Options) -Spicy's HUD (Full UI Color Customization) -Simple FPS Monitor (FPS Monitor For In Game) -Simple Menu (UI providing Gameplay, Cheat, Utility Features)
---
Before you start
Make sure you backup your saved data and your game files. This modpack does work with any past, current and new saves But I can't guarantee it won't make corrupt or cause severe lag.
---
Recommended specs
Hardware setup suitable for this collection.
GPU - NVidia GTX 1080 - *8 GB VRAM
RAM - 16 GB Psychical Memory
CPU - Intel I7 8700k
---