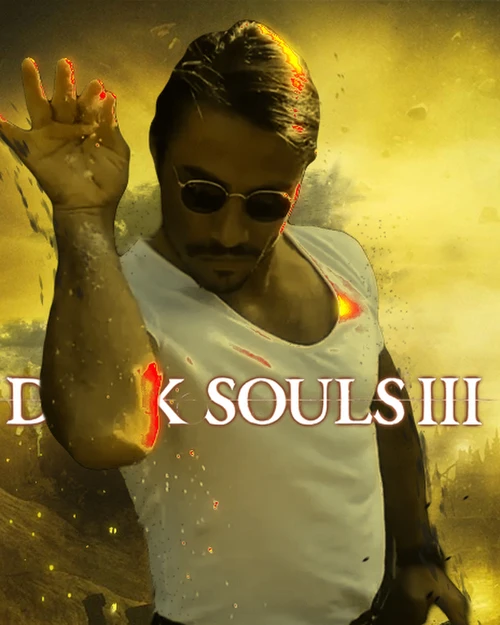 Curse your Dark Souls III with memes thanks to iGP11 and UXM. So it should be safe to play online with.
KnightZ07
Last updated:
|
Published:
This collection is designed for the vanilla Dark Souls 3. Mods like Convergence or Cinder have not been tested. Read how to install section please. Launch your game with iGP11.
---
😭 M E M E S
---
🗡️ Skins inspired by pop culture.
These are replacers. For example, you either have the claymore model or Cloud's sword, not both.
---
⚠️ How to install
Dark Souls 3's modding needs a bit of manual installation. Strangely, I had to run Vortex in admin to deploy the files.
Let's start with UXM:
Run UXM.exe
Browse your Dark Souls 3 executable path. Sekiro's one might be there by default. It will look like WHEREisSTEAM\SteamLibrary\steamapps\common\DARK SOULS III\Game\DarkSoulsIII.exe.
Unpack, wait a few minutes.
Patch. So the executable will look for the extracted files, the ones we are overriding.
iGP time:
Run the installer.
Open iGP11.Tools.
In the plugin settings, under your Dark Souls 3 profile put the rendering mode to none to avoid unnecessary things.
Below, in the textures tab, make sure you are in override mode. The path should be the one by default: <# app_dir #>\iGP11\tex_override.
❗ From now on, you must launch the game via iGP11.Tools. Not Steam anymore, or some textures won't load.
You can finally deploy the collection.
---
Optional files
I've put the full armor sets in the optional files, as you may already have a modded knight set for example and don't want it to be replaced.
Starting here I have manually renamed the files so they override other pieces of armor than described in the mod pages.
Iron Dragonslayer set (Ringed City DLC) ➡️ Doom Guy from DOOM.
Millwood set (Ashes of Ariandel DLC) + Dragonslayer's axe ➡️ Kratos from God of War (2018).
Follower set (Ashes of Ariandel DLC) ➡️ Steve from Minecraft.
---
Wanna go further? (not in collection)
These are NOT in collection, mainly because they override each other, or contain archives within archives that Vortex wouldn't handle. However, you could rename the files to replace other armors using these IDs. Armors should go in GAMEFOLDER/Game/parts.
---
Many thanks to the amazing modders for developing tools and allowing so much fun!
Mods By
No mod authors found