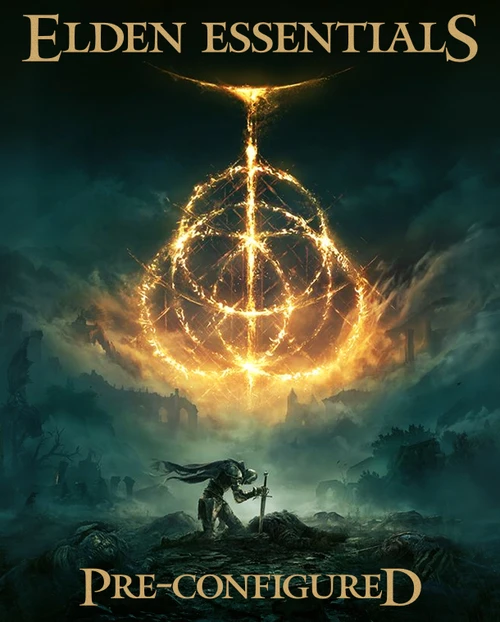 Elden Essentials (Pre-Configured)
No setup necessary for this collection of outstanding mods.
Revisions

7

Last updated

2 weeks ago

Created

Aug 07, 2022

Downloads

583
Collection Last Updated: Sep 18, 2022
---
Mods Included
Required:
Torrent Better Respawn
Elden Ring Reforged
Seamless Co-op
Optional:
Compact HUD Tweaks
Intro and Concept Art Loading Screens
As well as necessary ones like ModEngine.
---
No Mod Setup Required
All mods have already been put into their correct folders, and configured.
The only thing you will need to do is pick a password for Seamless Co-op (instructions are included).
There's a chance you Might need to add "launch_elden_ring_seamlesscoop.exe" to your firewall.
---
How to Launch the Collection from Steam
Making a Custom Steam Game:
In the bottom left corner of Steam, click "ADD A GAME", then "Add a Non-Steam Game". Click "Browse", then go to Elden Ring's installed directory, and choose any ".exe" file. Go to the Steam entry of the "exe" you added, click the settings button near the top right, then click "Properties". Change the name in the first field to whatever name you want, then click "Browse". Change "File type" to "All Files (.)", then pick "launchmod_eldenring.bat", and click "Open".
Adding Custom Artwork:
Go to "Steamgriddb.com", search for "Elden Ring", and download a Poster (under Grids), Background (under Heroes), and Logo (under Logos). In Steam, right-click on the top banner (of the entry you just made), and set the custom artwork for the "Background" and "Logo". Then click the back button in the top left corner, and find the custom entry in grid view (try under "All Games"). Right-click on it, go to "Manage", then pick "Set custom artwork", and set the Poster.
For examples of artwork, here is a link to some that I made/recommend: https://www.steamgriddb.com/collection/5497
---
If any changes are needed, please let me know in the comments (since the "Bugs" tab is not released yet).