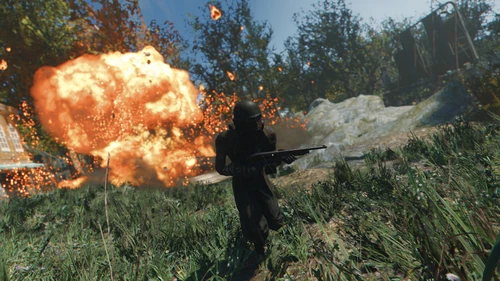 A new and improved version of my previous collection, "Fallout 4.5"
Revisions

2

Last updated

1 month ago

Created

Aug 16, 2022

Downloads

20
Description
Feel like vanilla Fallout 4 is a bit too empty and depressing to play after so many playthroughs?
If you answered yes then this mod pack is for you!
This mod pack aims to expand on the vanilla systems and the overall feel of the game. 99% of the changes in this mod pack are lore friendly and feel like they belong in the fallout setting. No modern weapons like all of the other overhauls on here, no going around dressed like a navy seal, Just pure fallout stuff.
Main features
Dozens of new and returning weapons and armour sets to spice up your arsenal.

New creatures both friendly and hostile .

The player character feels like they're alive. They react to the environment, your actions, other NPC's, etc... They even cough! wow

More diverse Creatures and NPC's. All major NPC's from raiders to settlers have been given more variety to their looks and loadouts so you never feel like you've seen the same nameless raider twice.

Major faction overhauls. All of the brotherhood members actually have names now and the Gunners are a neutral faction, meaning they'll only be hostile to you if you give them a reason.

Hundreds of new locations with their own lore and story.

Countless tweaks to enemy behaviour and damage to reduce bullet sponges.
And so, so much more...
FYI
Requires nothing except all of the DLC's

New game friendly

Potato PC friendly
Hardware Requirements
Minimum Specs:
Same as vanilla requirements
Recommended Specs:
GPU - GTX 1070/Vega 56 and up CPU - Intel i5-12500/AMD R5 5500 and up RAM - 16gb ddr4