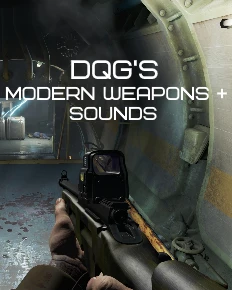 DQG`s Modern Weapons + Sounds
Tired of shooting the same weapons over and over? Try this collection which replaces most common weapons in the Commonwealth with modern guns and adding realistic sounds to accompany them.
Revisions

9

Last updated

2 weeks ago

Created

Apr 24, 2022

Downloads

2,669
Please contact me if you have any problems! I will try to help as much as I can!
Here's the full list of replacements in this collection:
・G36 Complex ⇒ Radium Rifles
・RSh-12 Assault Revolver ⇒ .44 Revolver
・McMillan CS5 ⇒ Lever action
・Kriss Vector ⇒ Submachine Guns
・MP5 Complex ⇒ Pipe Bolt Action
・Glock 19x ⇒ Pipe Guns
・Fostech Origin 12 ⇒ Combat Shotgun
・TEC-9 ⇒ Pipe Revolvers
・Ak5C ⇒ Assault Rifles
・Beretta M9-FS Pistol (92FS) ⇒ 10mm Pistols
・Izhmash SV-98 ⇒ Hunting Rifles
・RPG-7V2 ⇒ Missile Launcher
・M91 ⇒ Minigun
・Caravan Shotgun ⇒ Double Barrel Shotgun (not a real weapon but was in previous Fallout games)
・Bullpup Bozar ⇒ Combat Rifles (not a real weapon but was in previous Fallout games)
・AQUILA ⇒ Laser Guns
・Accelerator ⇒ Plasma Guns
・Wattz Laser Gun ⇒ Laser Muskets
Sounds:
・True 3D Sound for Headphones (manual installation required)
・Project Reality Footsteps
・Reverb and Ambiance Overhaul