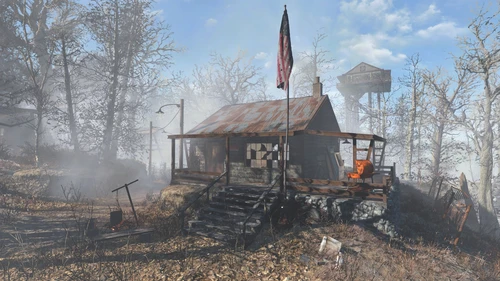 This collection makes some of the settlements look a little more like people have lived there for a time. Diamond City is heavily expanded. The image is from Camp Tenpines Bluff - REDUX by Undernier which is in the collection (and my favorite).

Chedring
Last updated
|
Published:
Description I find that 80% of my playthroughs are just trying to get certain settlements looking reasonably lived in, not even to my liking, just better. So I started collecting mods of pre-built settlements and allow myself to focus on adding smaller stuff after. I mostly have revisions and then optional settlement objects that I believe greatly enhance the locations.
---
Main features Revision mods and optional settlement objects. There is also a couple NPCS you can recruit as settlers as well as an NPC cloning gun for when you want certain people to populate the locations.
---
Before you start READ THE MOD DESCRIPTIONS. This is not an all inclusive, fresh start collection. Some have F4SE, MCM, Unofficial Patch and many, many more requirements. Granted, you should already have these anyway. But it never hurts to check. I did not include anything for Sanctuary and Goodneighbor because mods for those places either mess up the beginning of the game or are just blatantly unfinished. I personally use Sanctuary Hills Overhaul but it seems to mess with starting a new game. I did not include blueprints because I find the whole system is hit or miss and I don't like 95% of the user made towns. I prefer stuff made in the kit. I also did not included Sim Settlements 1 or 2 as that is a whole other system. But it's worth checking out if you haven't. I am personally iffy on the Slog mod that I have listed but I find it better than the rest for now.
Recommended specs If my mid range, lazy prebuilt toaster can run 300+ mods then most can run these.
Includes mods from
67 authors
No mod authors found