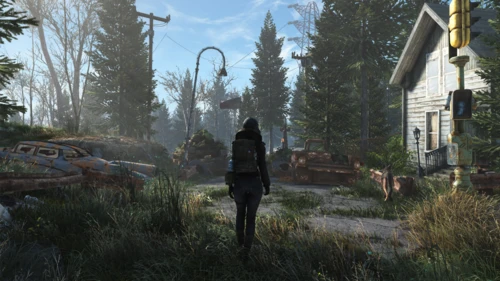 A collection of mods to enhance and immerse your gameplay visually and physically. Set with tons of new places to explore around the Commonwealth and harder enemies to fight.
Revisions

4

Last updated

4 weeks ago

Created

Mar 15, 2022

Downloads

1,765
Survival mode recommended but optional. Live in Infamy as you explore the dreaded Commonwealth. Stumble into new hostile territories with the Raider Overhaul Mod, struggle to fight them off in a new style using PANPC and Better Locational Damage. Discover areas filled with things to explore with Project Apocalyptic Commonwealth and South of the Sea. Enter new areas with Stumble Upon Interiors, and the Lost Vault. Feel your character with the Sound of Pain and Cough. Experience what it would feel like if they'd remaster Fallout 4 with FlaconOil's Retextures, Vivid Fallout, ENB Series, and Enhanced Lights n' FX. Over 40+ quality of life mods including Animated Ingestibles/Chems, Gun Smoke, Sound Reverb and Ambiance Recording.
Offsite Mods:
-PANPC 2.0 (FO4 v1.10.163) (Latest ver.) (HOTLINK) https://cdn.discordapp.com/attachments/870876400456957992/923645851417575454/PANPC_2.0-stable.7z
-Swinging Meat Bags (FO4 v1.10.1630) (Unsupported) https://www.dropbox.com/s/yp8xjkgv65uuiyo/Swinging%20Meat%20Bags%20v1.4.1.7z?dl=0
Offsite Requirements:
-Visual C++ (x64 ver.) https://www.microsoft.com/en-us/download/details.aspx?id=48145
-ENB Series (FO4 v1.10.163) (Latest ver.) http://enbdev.com/mod_fallout4_v0468.htm
-F4SE (FO4 v1.10.163) (Latest ver.) (HOTLINK) https://f4se.silverlock.org/beta/f4se_0_06_21.7z
Please list any performance issues or conflicts causing CTD in bug section. For Load Order and ini tweaks read notes. Load Better Locational Damage after Raider Overhaul. Vortex isn't downloading a few of the offsite mods? Check notes.
No ENB required
Intended for those with beefy computers