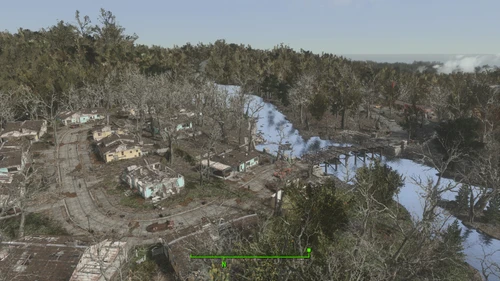 The aim of this collection is to make the post apocalyptic wasteland, actually feel like a post apocalyptic wasteland.
Revisions

3

Last updated

4 months ago

Created

Jun 18, 2022

Downloads

56
Description
The main purpose of this collection is to bring the feeling of actually being in a post apocalyptic wasteland to the forefront. Changing, or adding things like better lighting, dynamic shadows, more fitting ambient music. Things that just make it feel like you're actually travelling through a wasteland ravaged by nuclear war. All screenshots that I will post in Media show the game as it looks with, ENB v0.468 and Subtle ENB (https://www.nexusmods.com/fallout4/mods/5885) enabled. This collection is a huge WIP and I'll be continually testing it and changing things as I go. There isn't much to say about installation and setup, I mean for this to be a simple "Add to Vortex" and go.
Everything in this collection is meant to be as lore friendly as possible. Please leave a comment if there are any issues :)
---
Main features
VATS has been removed (simply disable "No VATS Overhaul" to bring it back it shouldn't break anything), personally I am not a fan of VATS and wanted to remove some of the "arcadey" feeling to the game. Improved animations, an overhaul of the minutemen, and the brotherhood. As well as a major improvement to areas where horror makes a big appearance, ghouls are overhauled to make them sound and look more frightening, as well as enhanced lighting and FX to make dark areas more foreboding.
Sim Settlements 2 and D.E.C.A.Y. are included together, LOOT provides a link to a forum post that provides instructions on how to get them working together properly very easily with FO4Edit (https://forums.nexusmods.com/index.php?/topic/3445720-decay/page-88#entry102651758)
---
Before you start
Requirements
Fallout 4 Script extender is a must
---
Recommended specs
This collection has been tested, and running very well with these specs
AMD Radeon RX Vega 56
32GB G.Skill TridentZ @ 3000MHz
Core i9-12900k @ 5GHz
Game is installed on a 1TB m.2 SATA SSD
---
Compatible collections
I have not done much extensive testing with other collections, and mainly intended this as a one-off solution for some of the gameplay elements that I personally was not a fan of, and our outstanding modding community has vastly improved upon.