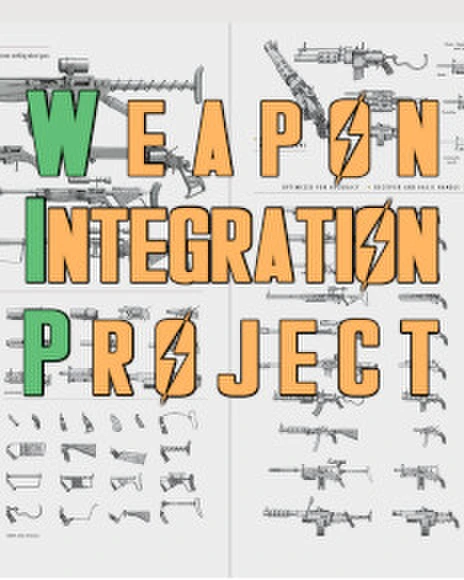 Weapon Integration Project
Overhauls a lot of weapon mods, fixes bugs and provides full integration into ECO's systems for a seamless experience.
Revisions

1

Last updated

5 days ago

Created

Jun 21, 2022

Downloads

63
Description
This is the Mod Collection for Weapon Integration Project. It allows for a quick and easy installation of the mod and all its prerequisites.
---
Main features
All included weapons can be modified with ECO's Quick Modification system.
All included weapons are integrated into ECO's attachment point framework, they don't use custom/individual keywords anymore, this results in properly sorted and streamlined workbench modifications.
Enables ECO's dynamic slot system with the custom legendary effects some of the included weapons come with.
All included weapons make use of ECO's improved Instance Naming Rules and new weapon specific rules get injected via script for maximum compatibility.
All included new ammo types are added to ECO's ammo conversion feature and also have crafting and scrapping recipes available on the Universal Workbench's Ammo Station.
All included weapons can be crafted on ECO's Universal Workbench ("Weapon-Create" mode).
All included weapons have randomized Object Templates, this results in them spawning in different variations and flavors depending on character level, type of NPC and place it spawns in.
Several included weapons have gotten a complete rework of their attachment, Object Template and Leveled Item systems for way more variety and faction- and role-specific spawns.
All included weapons and their custom ammo types get directly added to Leveled Item lists (without scripted injection, this might change later on) for more variety in enemy spawns, including legendary variants, quest rewards and DLC leveled lists.
All included weapons have their original leveled list injections disabled because in a lot of cases they came with bugs, inconsistencies and other problems, this won't have any effect if the injection quests already got processed in your current playthrough.
Plus a ton of fixes and adjustments, way too many to list separately. In the end, all of this comes down to more than 1500 individual changes and additions.
---
Before you start
Currently the mod Weapon Integration Project can be considered to be in a beta state, it is feature complete but there might be a few bugs and inconsistencies left.