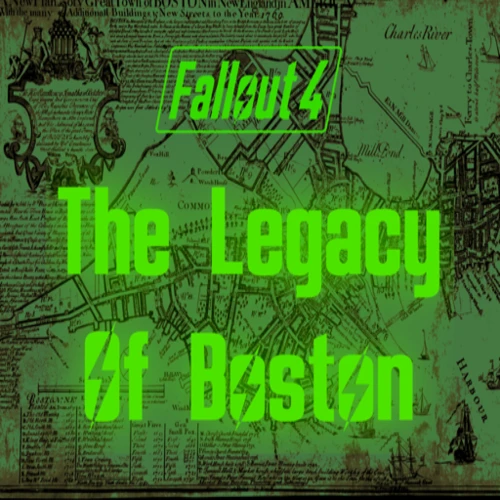 Fallout 4: The Legacy Of Boston
Adds Endless of hours worth of Quests, radios, and areas to explore.
Revisions

2

Last updated

2 months ago

Created

Aug 15, 2022

Downloads

8
Introduction: After hours and hours of 100%'ing Fallout 4 what else is there to do? Roam Boston? Build Settlements? Hunt down the last remnants that were once the raiders? With The Legacy Of Boston you will no longer feel the boredom that comes with finishing Fallout 4. From fighting kaiju sized Deathclaws, to Exploring an underwater bunker. Welcome to Fallout 4: The Legacy Of Boston.
What This seeks to expand on:
Opening The Commonwealth:
This collection holds various mods that, instead of adding new locations, seek to fill in the locations that were blocked off by the Vanilla game. Ever been frustrated when you walk down the street of a large town, just to find that almost all of the buildings are boarded up with wood? Well now you will be spending hours just exploring every nook and cranny that the city of Boston offers. Towns such as Hagen and Concord are now open for you to explore.
Deepening The Ocean:
Another vanilla aspect of the game that this collection hopes to expand is that of the ocean. Not to spoil it all here, but let's just say that Bioshock fans will be in for quite the shell-shock.
Wandering In Tune:
Diamond city radio just not doing it for you? Then how about you explore the depths of once populated cities to some vaporwave? Or perhaps take on entire gangs of raiders listening to the sweet music of the motherland? Well now you can with some of the new radios tossed in for the mix.
Cities Expanded:
Did DC and Goodneighbor seem to small to you? Well now you should expect to find all new sorts of locations in Diamond City and Goodneighbor. From red seat districts, to shady bounty dealers.
Wickedly Fun:
Ever felt like vanilla Fallout 4 never quite gave you the true oppurtunity to be evil? Why can't you be a TRUE bad guy for a change? Well now you can! Spend hours of your time crafting your perfect little villain in depravity, and revolutionize humanity with the Institute Phase 4 Overhaul.
QUESTS, QUESTS, AND MORE QUESTS!:
And finally, this collection mainly sets out to add HUNDREDS OF NEW QUESTS! From the iconic "Tales From the Commonwealth" , to the Long road that is "The Train". You can now truly lose yourself in all that the new and improved commonwealth has to offer! Just don't get too L.O.S.T ;)