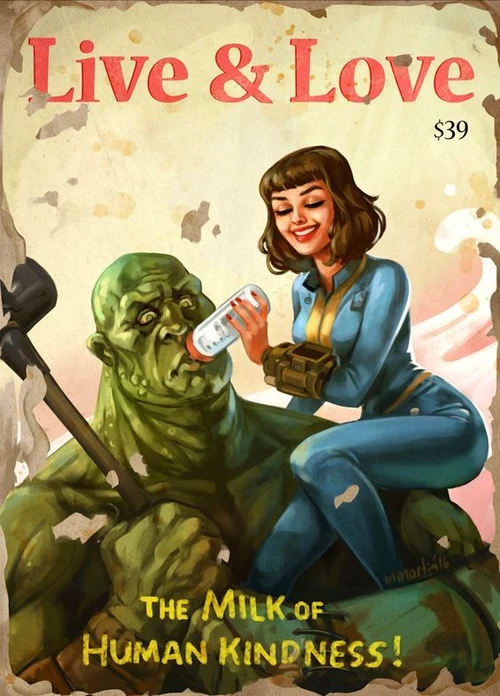 A pretty large collection made with some of my favorite mods. Please feel to ask me for help if needed!
Revisions

2

Last updated

9 hours ago

Created

Mar 09, 2022

Downloads

282
I mostly made this collection as a personal collection for me and my husband to share but I will gladly take feedback and try and assist with bug issues.
Do not enable the following plugins-
n5465 cait replacer v1.0.esp
natasha_face_texture_vanilla_colours.esp
Please follow the mod page to install the ENB- https://www.nexusmods.com/fallout4/mods/17115?tab=description
Things you need to install Manually-
Required:
Script Extender- https://f4se.silverlock.org/
Misc Hairstyles- https://fo4-mischairstyle.tumblr.com/post/139169515871/mischairstyle16-download-47-new-hairs-for-male
Optional but recommended-
F04 Edit https://www.nexusmods.com/fallout4/mods/2737/
Wrye bash- https://www.nexusmods.com/fallout4/mods/20032
Bethini- https://www.nexusmods.com/fallout4/mods/67
The script extender is self-explanatory I do not feel I need to explain what it does. The optional downloads are for if you are having issues. Personally, I make a Tool's Folder (DO NOT MAKE THIS FOLDER IN GAME DIRECTORY IT WILL CRASH YOUR GAME) and store them all there.
Adding the optional tools to your main bar. (Bethini is being used as an example)-
Download the file from the link above manually
Click Add Tool
Click New
Click Target
Find where ever you extracted you TOOL and put that in
Click Save
Boom its there
Wyre bash and F04edit are for cleaning ini files.
On wyre bash click the view tab on the top and run the plugin checker. After it is finished there will be a section that says needs to be cleaned with f04edit. Use f04edit and clean each file one by one (Do not do multiple at a time it will break. After one is finished you need to close the f04 tool and then reopen it)
We are the Far West Minute Men Fix-
User probablynotJhay provided a fix for the mod 'We are the far west minutemen' for the "My_Minutemen" missing master.
Make a copy of the W.A.T.Minutemen folder, and renamed the 'W.A.T.Minutemen.esp' to 'My_Minutemen.esp' Compressed the copy that has the 'My_Minutemen.esp' file into a zip Then install the copy via mod manager's install from file
for the file conflict, you could just make either one load after the other, it makes no difference
If you are having any issues feel free to reach out to me on here or on discord Asthore#7878