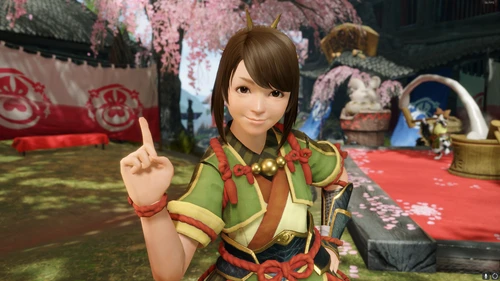 Mobility and Quality of Life - v5
This collection aims to make the game experience smoother and to reduce the time between quests and between fights a quest, and also to make gathering quests more fun/faster. No mods in here are intended to give an unfair advantage on monsters or other players on their default settings. This is actually what I use personally, and I have made some of the mods myself, too. Aside from the monster's weakness icons, and the tiny reminders when on the village (see third and last images), this mod doesn't change the HUD at all. Lastly, almost all mods are optional, so you can pick and choose which you like best.
Revisions

5

Last updated

1 day ago

Created

Jun 05, 2022

Downloads

903
Updated for Sunbreak!
Main features
Cutscenes will be at whichever FPS you use normally, no more 30FPS cap;
Village Reminders will alert you when you need to visit the Buddy Plaza, the shops, or quest/subquest NPCs;
Your Insect Glaive buffs will not wear off while you use Rampage installations, or while you chase a fleeing monster;
No need to consult the Hunter's Notes to find out which element a monster's weak to: it'll show up on their icon;
You can use two palicos and still move almost as quickly as Palamute riders when using a Gunlance, thanks to the blast dash cap removal (you still have to mind your ammo);
You get unlimited wirebugs for moving around the map, making for fast gathering quests. Your wirebugs will automatically become normal again when fighting and/or when online to avoid gaining an advantage over players and monsters.
Change food buffs in case you ate the wrong dango set by mistake with Seconds, Please;
The monster/rampage music won't get interrupted by the generic Wyvern Ride music with No Wyvern Ride Music;
Your lobby music won't get interrupted by the Sale music when you get near a shop;
You'll be able to tell when you're hitting a weakspot easier with Correct orange numbers;
Choose:

You can skip cooking and eating cutscenes, making eating instant, kind of like in MHW with Skip Dango Song;
You can skip going to the canteen altogether with AutoDango, getting the food bonus again automatically when returning from a quest;
You can use both mods to skip going to the canteen for food buffs (AutoDango), and also skip the Motley Mix animation(Skip Dango Song);
---
Before you start
Requirements
If using Revision 3 or higher, REFramework Direct2D will be installed with Vortex, so no manual installing is necessary anymore!
Everything that is required is flagged and will be installed alongside the collection.
---
Other suggested mods
Convenient Spiribirds: I would include it in this collection, but the problem is that by default, it also triples stat gains from spiribirds, which I think will give you an unfair advantage as if you and another player take the same route, you'll be better buffed by the spiribirds at the end. I do recommend it if you install and edit the file with notepad to change the local SPIRIBIRD_MULTIPLIER = 3 to 1, making it not multiply anything, just increasing your max stamina when getting a stamina spiribird.
Layered Armor Progression: A great mod that I use and would also include in the collection, but since it warns about making a backup of your save, I figured it was best to leave it here for you to consider separately. I'm pretty sure it's safe to use though, and it never gave me problems.
---
Compatible collections
Other collections can be installed alongside this collection, so don't worry about that.
---
Contributing
I usually look for new mod releases to add to the collection, but you can suggest mods to be added via comments to the collection if they more or less fit the description (right below the title).