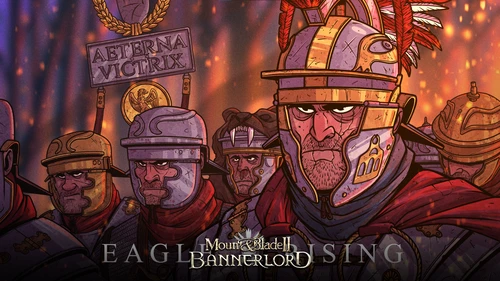 Eagle Rising: Europe War [1.8.0]
Kolekcja modów na których aktualnie gram na Streamku https://www.twitch.tv/markojestem
Revisions

2

Last updated

1 week ago

Created

Sep 11, 2022

Downloads

47
Zanim zaczniesz:
Serve As Soldier You need to open the settings.xml in Modules\ServeAsSoldier and change the <AIRecruitWanders>true</AIRecruitWanders> setting to <AIRecruitWanders>false</AIRecruitWanders>. :standard:You also need to download the Additional_Troops.xml from our Nexus and replace the same file in ServeAsSoldier\ModuleData in order to be able to select every troop.

Serve As Soldier 1.8.0 Crash Fix (Unofficial) NIE POBIERAĆ (może crashować w późniejszym czasie gry)
If you are applying this after already starting a game, then you'll have to start a new game.
Kolejność modów:
Najważniejsze Eagle Rising i Europe na dole jak na zdjęciu
Serve As Soldier na górze jak na zdjęciu, w takim układzie nie mam żadnych crashy
Diplomacy:
Bezpośredni Link do Diplomacy to z nexusa crashuję grę na wstępie https://github.com/bennyz/Bannerlord.Diplomacy/releases/tag/v1.1.11.4
Jak ktoś ma ochotę polecam zmienić sobie Imiona i nazwiska Lordów :) Poniżej moje propozycję:
https://docs.google.com/spreadsheets/d/1Y-eQu2wRSXgXduyabUoLF0S49jXsoocP9XtvSk7DtLM/edit#gid=1379887719
Opcjonalnie:
Equip Best Item (U mnie craszował grę przy edycji eq bohatera)
Scatter Around Expanded (U mnie craszował grę w pewnych momentach)