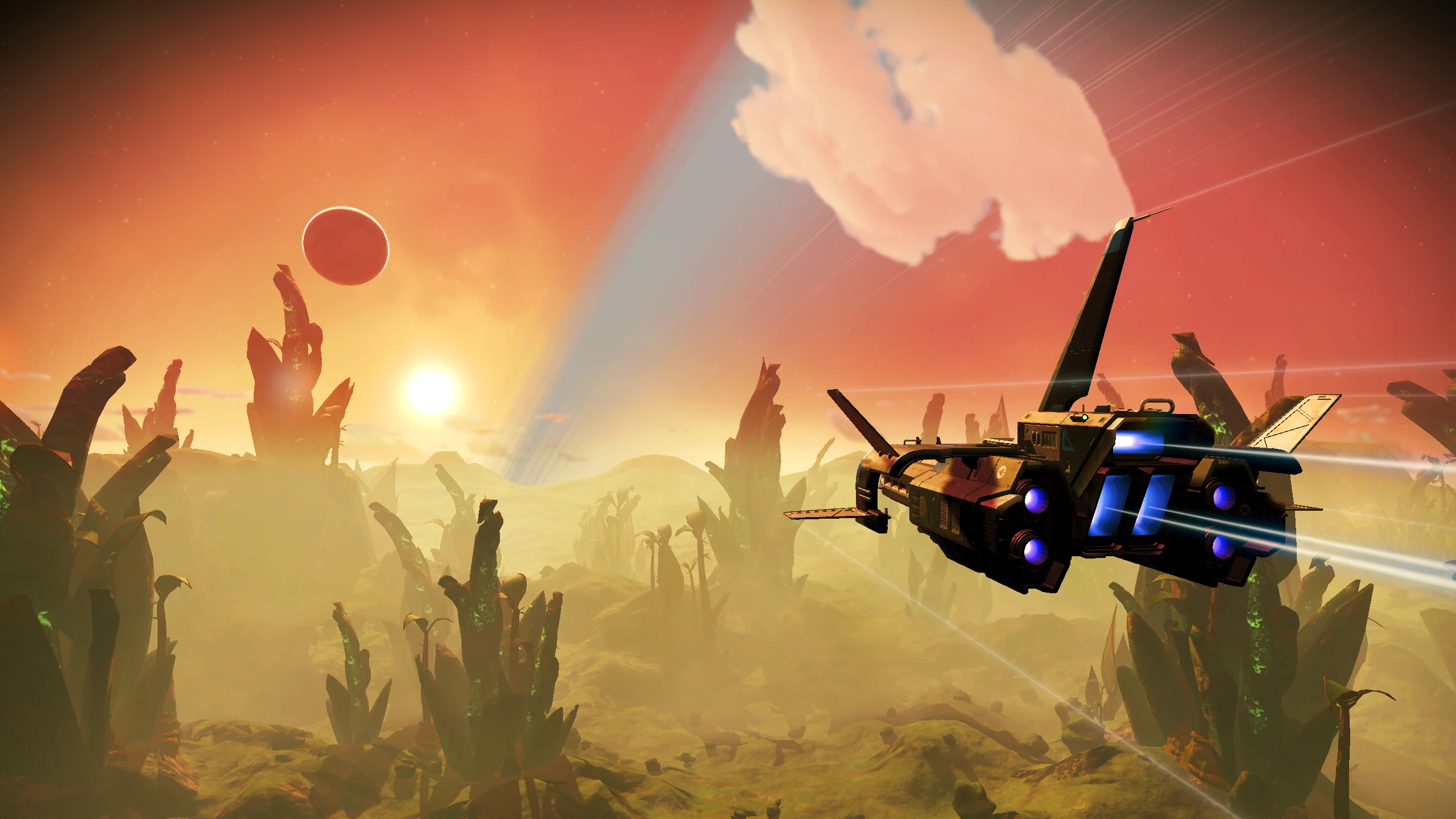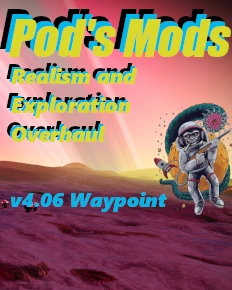 Pod's Mods : Modder Maintained
Updated 11/12/22 This Mod Aims To Encourage Exploration Through, Loot, Rewards, Recipes, and Traders, As well as Make Flight Fun. Make The Planets Worth Exploring for Beauty and Necessity.
PodcastPrimates
Last updated
|
Published:
---
    Updated To v4.06 Waypoint
---
     If You Like This Modpack
   Please Take The Time To Hit the👍
---
       Just a Heads Up
  ⚠️This Mod is Meant to Be Played⚠️
     ⚠️From A New Save⚠️
   As It Will Feel Like A New Game
If You'd Like A Community, And To Have Input On Where This Mod Goes As I Adjust and Add, Please Join Us Here.
 Overview of Exploration, Rewards,
       Recipes
- Added Nanite, Tainted Metal and Quicksilver Reward Chances To All Underwater Interactions  

- Added Nanite, Tainted Metal and Quicksilver Drops to all Land Based Interactions Including Non Biome Based Plants
- (Reason) - Gave Food Based Plants A Reward As Well As A Use. 

- New Recipes Include Items Found on Land, Sea, and Caves

- Moved Some Recipes Around to lengthen early/mid game    

- Took Upgrade Modules out of the normal Reward Table (unless givin from POI or Quest/Mission) 
-	Moved Them as Purchasable Through Scrap Dealer or Procedural Craft Option Through Crafting Suspicious Boxes 

- Weapon Upgrade Cost Changes

- Ship Slot upgrades now cost
- All Ship Class Upgrades are now in Quicksilver instead of Nanites

- Suit Slot Upgrades now cost 15 Hadal Cores or Units

- Replaced Starship Launch Fuel with Repair Kit Recipe In Anomoly 
- (You  Already Know Starship Fuel You Don't Need to Learn It)

- Added Recipes to Synthesis Lab For Suspicious Tech, Goods, and Weapons Caches

- Changed Exocraft Purchases Currency Type From Salvage Data To Tainted Metal

- Changed Currency Type for Exocraft Upgrades in Anomaly to Quicksilver

- Added Memory Fragments and Dream Aerial to Suspicious Goods

- Added Suspicious Sentinel Mods to Suspicious Weapons Caches 

- Changed Ion Battery Recipe to Sodium and Salvage Data (Changed to Cobalt and Sodium)
- (Reason) Made it Cost Less Sodium Than A Full Charge/Moneysink For Salvage Data

- Changed Recipe for StarShield Batteries (changed to Tainted Metal/Plate)

- Removed Slime from almost everything
- (Reason) Waste of Time Refining/Makes Mould More Exciting. 

- Removed Frigate Modules from Vanilla Drops and Moved Them To All Abandoned and Crashed Freighters  

- Removed Ship and Freighter Teleport Recievers   
(Reason) - Give Nav Data A Reason To Exist, Maps Have a Use Again, a Reason to use Haulers for Transport As Well As Make Hauling Illegal Cargo Have Risk  

- Reduced the buy and sell cost of Illegal Goods at Space Stations to Encourage Selling Elsewhere  
(Reason) - Trying to Give a Reason to Use Hauler Type Ships  

- Added Quicksilver, Tainted Metal and Nanite Drop Chance on Ship Salvage  

- Added Frigate Tokens, Quicksilver, Nanite Drops, Tainted Metal to some Missions

- Full Economy Overhaul Including 

- Prices For Minerals Increased
- (Reason) - Persuade You From Buying All Your Materials In Early Game (These Prices Become Bearable) 

- Prices For All Anomaly Products Increased
- (Reason) - Make Getting Things More Rewarding/Increase Early Mid Game

- All Exocraft Stats and Handling Changed To Increase Realism/Make Them FUN to Drive (No More 12/u per hour)
- (Reason) - They Cost More They Should Be Worth It  

- Prices for all Upgrade Modules Increased (Also 2 More Options For Upgrade Modules)
- (Reason) - Didn't Want These Handed Out Like Candy  

- Planets Are Further Apart
- (Reason) - Give Solar Ships A Reason As Tritium Gets Used Far More. Avg Travel Time 45s to 2m30s

- Less Buildings and Aliens Around as Well As More Uninhabited Systems
- (Reason) - Elite Dangerous Inspired Less Life = More Exciting When You Find It (Also Gives Exocraft Scanners Better Use)
- You Probably Won't Start In A System With A Space Station (Look For Life On The Galaxy Map Before Warping)
- Chances of Stations Being Broken (Even if it shows life on the galaxy map) Are Increased. 
- If You Do Find A Space Station Chances Are All The NPC's Won't Be There (No One Wants To Work These Days ;)

- (My Cheat) I Name The Systems and Then Add What NPC's Exist In That Station - (Reason) - Gives You More Exploring Of The Galaxy and It May Suck but Really Adds a Fun Element To The Game
  Please Check Out and Endorse These
    Helpful Amazing Creators!
                                             Special Thanks
                                   Without Them This Would Be Nothing  

            What's Included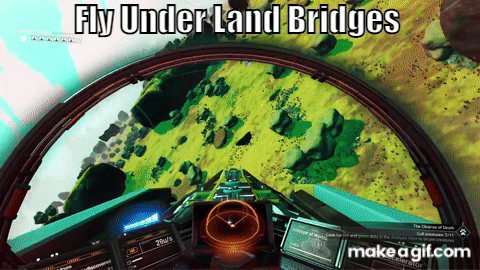 LASAGNA Enviroments - Absolutely Stunning Work Including Multiple Biomes on A Single Planet! LoD Upgrades and Custom Assets. This is a AAA Mod.
Includes mods from
8 authors
No mod authors found