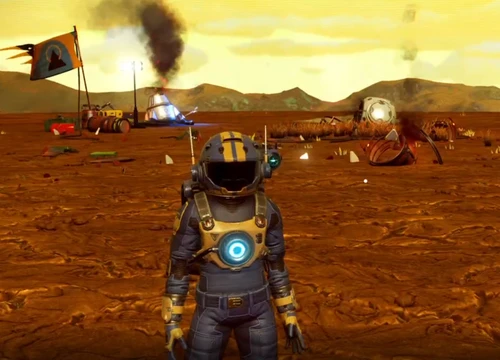 A personal collection of immersion mods meant to make NMS feel richer and harder.

KittenChariot1243
Last updated
|
Published:
Update 31 July 2022: I added several additional mods to the collection, updated to the Endurance update. This should bring back the hard-mode feel that I was going for when starting this collection.
Description
No Man's Sky can feel like a fairly shallow game after a few hours as it tries to do many different things well, which is often quite hard. This collection was made to improve my game as I identify new mods that improve the experience (and review through my Youtube channel). Feel free to comment on mods you think could improve the collection. Please let me know if you want your mod reviewed on my Youtube channel.
My Youtube Channel: https://www.youtube.com/channel/UC1HZirscKxS7odf63wdajnQ
---
Main features
Better Planet Generation, by WoodyMontana
No Man's - Prepare to Sky Edition
---
Before you start
You need to modify your game files to enable mods, which you can learn how to do here: https://nomanssky.fandom.com/wiki/Mods
---
I would recommend using this modlist with a new game to get the most out of it. If you want to try it with an existing game, I would recommend activating it while on a space station (per recommendations by the Better Planet Generation author).
---
Your game may, on rare occasions, crash, reporting mod incompatibility. This has happened to me now and then while working perfectly at all other times. I recommend keeping the game closed for a few moments (to clear your computer's cache) if this happens and then restarting the game (no need to restart your computer). It should then work.
---
Tips
When starting a new game, your first priority should be to find access to an underground area or an overhang as your hazard protection may be worn down more quickly, depending on your starting biome. Then repair your multitool, find your ship, and progress as normal. Your ship will not be a few hundred meters away from you, as in vanilla. Expect to have to travel to reach it, so prepare accordingly. Watch out for holes leading to underground caverns, you may be unable to escape. Best to not annoy sentinels until you have your bolt-caster (they have increased health).
Includes mods from
8 authors
No mod authors found