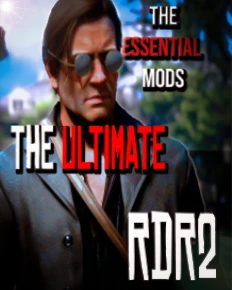 Ultimate RDR 2 - Essentials
Jupacalypse curated mod list for the true RDR 2 experience. Evoke life into NPC physics, overhaul and fix combat for both skilled and casual players, refined graphical changes and general QoL essentials. A vanilla+ overhaul for your inner gunslinger.

JUPACALYPSE
Last updated:
|
Published:
Description
The ultimate mod list that will transform RDR 2 into a genuine third-person action and adventure shooter and spiritual successor for the franchise in 2022. These are the top daily mods that keep will keep you playing this again and again.
Before you start
Watch my video explaining everything you need to know about the purpose of this mod collection and why you will want to install them into your game.
https://youtu.be/ZNN_a2qSsLo
Main features
Make combat playable for controller users, and enhanced for mouse and keyboard players alike.
Fantastic player and NPC physics back into the game, reproducing the cinematic and dynamic joy of advanced ragdoll physics thanks to Synthetic Outlaws Euphoria Ragdoll mods.
Combat is now enhanced to accommodate players who do not use auto aim/aim assistance nor spam deadeye and prefer fine-tuning skill and finesse thanks to Maverickheart.
More options for customizability and personalisation with many thanks to WhyEm
Various QoL improvements et al.
Requirements
Scripthook
LML
ASI loader
Best practices
Use this as a means to find all the mods listed, but install them individually and NOT via Vortex. Manually install mods with Lenny's Mod Loader

Install the mods individually, and follow the instructions from each mod description.

No you cannot play Red Dead Online with mods enabled.
Includes mods from
10 authors
No mod authors found