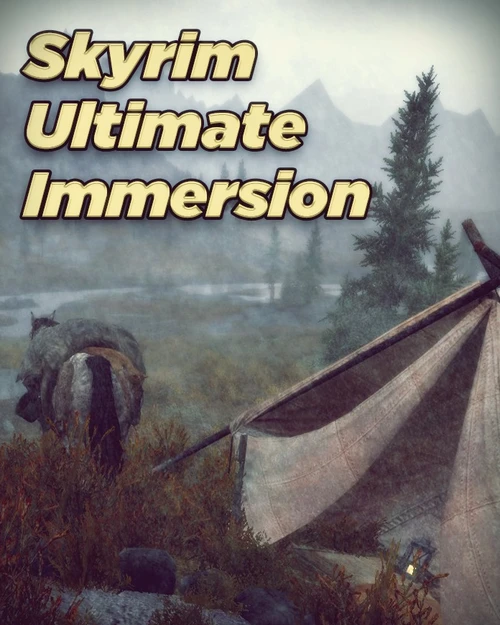 Skyrim Ultimate Immersion
New textures, effects, weather, models, mechanics, improvements and itens to make Skyrim a true realistic experience.
Revisions

1

Last updated

1 month ago

Created

May 14, 2022

Downloads

3,082
Description
I know there is a lot of mods, but so far I've experience just a few crashes, they're all compatible, just make sure to follow the correct load order in Vortex. If your system is powerful enough, you can also try an ENB, I tried "ICBINE" and "Performance and Realistic ENB", but couldn't get a reasonable FPS, so I'm playing with standard graphics that also looks very pretty. I also tried Dynavision but my game was constantly closing so I decided to not use it.
---
Main features
My intention is to turn Skyrim into a true immersive experience, almost like a simulator. The HUD is gone, but you can find your way pressing X or looking at the map. The stamina, magicka and health bars are replaced by screen effects. No more magically knowing where the enemies are or if you are hidden, you need to really be careful. Combat is more intense and fast, you take and give more damage. You need to eat, drink, sleep and bathe. You feel cold, so fire is your best friend, and use aproppriate clothing. Make a camp by the river, sleep in your tent by the fire, wash yourself in the waters, fill your bottles, and venture forward. Every journey into the Skyrim wilds become an epic adventure. I also included Sofia follower, since I like her a lot. You can include her in your adventures, or go alone.
---
Before you start
Check every mod options in MCM menu for your best configurations. For example, the "Important Information Overhaul" is best used when the magicka, health and stamina bars are 0 opacity in "Immersive HUD" mod. For some mods you need to uncheck some options. The animations mod is enough so you can disable other mods that has animations. You can disable Sofia's horse since "Convenient Horses" and "Amazing Follower Tweaks" together can take care of that.
Requirements
SKSE, SKYUI and all 3 DLCs. Can't say if FNIS is mandatory, but it's better to include it.
Best practices
If you think some mods are unnecessary, jut disable them. I particularly enjoy the food/drink/sleep/bath/cold system, because it gives a better use for these itens in the game, just not replenish a tiny amount of heath or stamina. It's not annoying, you don't need to eat every 2 minutes, so I like it a lot. Camping is so much fun, and also have some extra habilities and perks.
---
Recommended specs
I have 16GB RAM, FX-6300 and a GTX 750 1GB, the game runs fine at 60 fps for most part, looks beautiful inside interiors. Anything above that should be fine.
---
Compatible collections
I can't say if works, check the compatibility among them.