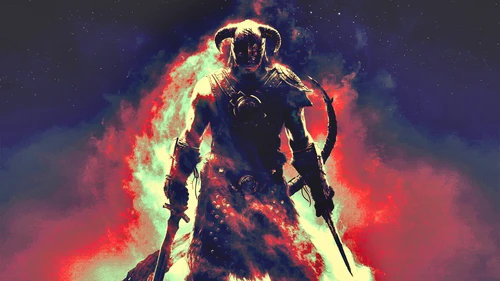 A medium-sized collection aimed at bringing Skyrim SE to new life with new gameplay overhaul mods, convenience features, music, a graphical overhaul, and more.
Revisions

12

Last updated

3 days ago

Created

Aug 24, 2021

Downloads

12,900
Description
The purpose of this collection is to bring Skyrim SE to new life with a combination of gameplay enhancements, visual and audio overhauls, as well as various convenience features.
Main Features
Graphical improvements based on Pfuscher's amazing "Skyrim 2020 Parallax"
Combat overhaul based on DServant's fantastic work including CGO and AGO
Re-envisioned Perks & Magic System thanks to Odin & Ordinator by EnaiSiaion
Overhauled Combat and Camera
Combining the brilliant mods True Directional Movement, Combat Gameplay Overhaul, and Smooth Camera, this collection delivers combat gameplay that brings Skyrim closer to modern RPGs and ARPGs.
Graphics
Comes with a preconfigured ENB
Utilises amazing textures made by Pfuscher
Instructions
NEMESIS Behavior Engine needs to be run after the installation of this collection.
Run NEMESIS from your Dashboard
Click "Update Engine"
Tick the checkboxes for: Archery Gameplay Overhaul SE, Combat Gameplay Overhaul SE, True Directional Movement
Click "Launch Nemesis Behavior Engine"
Wait until it finishes without errors
Run the game!
Before you start
Make sure you have a clean install and that your game is up to date. It is strongly recommended to only install this collection into an empty setup/mod profile.
Recommended specs
This collection was built on a Razer Gaming Laptop with the following hardware. If your PC is a lower spec, you may or may not encounter some performance issues.
Skyrim Version: 1.6.353.0 (+ the Anniversary Edition DLC bundle) OS: Windows 11 GPU: Nvidia RTX2070 (8GB GDDR6 VRAM) RAM: 16GB CPU: Intel i7-8750H CPU @ 2.20GHz
Compatible collections
Installing smaller collections that merely add weapons etc. may be fine but this collection is intended as a total overhaul/All-in-One and installing other total overhauls is likely to cause issues.