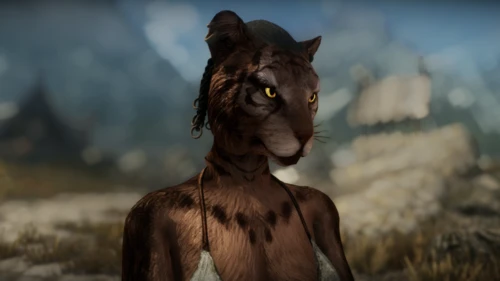 This collection is meant to give the beast races their due, to show them as glorious and proud peoples, not the weak discarded servants they appear to be in vanilla Skyrim. High-resolution graphics and accessories for both NPCs and characters. Highly compatible with other collections, including I&A
Revisions

2

Last updated

2 weeks ago

Created

Jul 30, 2022

Downloads

85
Description
This collection shows Khajiit and Argonians as proud and beautiful peoples who retain their beastly nature. It is meant to be an addon to other collections and modlists and as such is highly compatible. Fully compatible with Immersive & Adult Collection, with rules already setup to overwrite as needed.
---
Main features
High-resolution body and head skin textures, re-imagined skeletal models, plus unique accessories and accoutrement. Make sure to add the requirements below so you can take advantage of the optional mods in this collection, as they add some important elements.
---
Installation
Just allow any mods from this collection to overwrite any other mods that you have installed.
The optional mods in this collection require additional mods to be installed. Please make sure you have these requirements before installing them, and then choose the optional mod installation. I&A Collection has all requirements, so I recommend downloading all optional mods if you have I&A.
BeastHHBB requires USSEP: https://www.nexusmods.com/skyrimspecialedition/mods/266
Digitigrade Beast Races requires XP32: https://www.nexusmods.com/skyrimspecialedition/mods/1988
Lion's Mane and Forest Cat require Faster HDT-SMP: https://www.nexusmods.com/skyrimspecialedition/mods/57339
---
More
Available for Xbox as a merged bundle: https://bethesda.net/en/mods/skyrim/mod-detail/4253673
If you are interested in collaborating on Overhaul projects, or levelling up your experience of modding Skyrim, please join my discord server, Skypocalypse: https://discord.gg/y6tAHFmQMH
Skypocalypse is above all a place for COLLABORATION, a community hub for mutual aid to level up our skills and Skyrim itself.