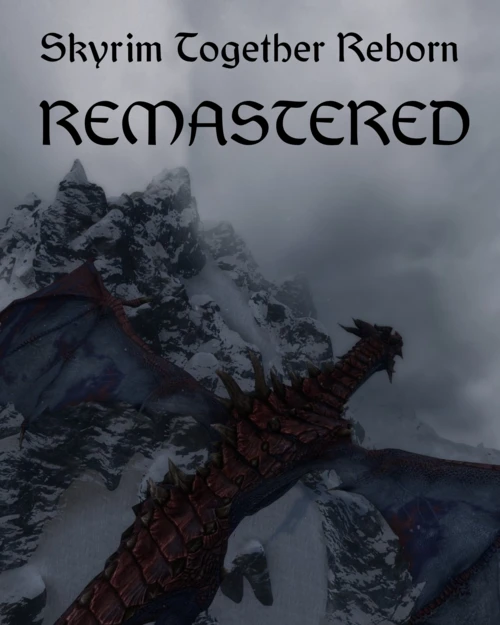 Remastered Skyrim Together Reborn
This Mod Collection aims to work well with Skyrim Together Reborn whilst refining Skyrims graphics and enhancing it's Gameplay.
Revisions

22

Last updated

3 weeks ago

Created

Aug 13, 2022

Downloads

65
Description
This Collection is Lore Friendly and works both in Single Player and in Multiplayer with Skyrim Together Reborn.
---
Main features
Multiplayer
Enhanced Graphics
New Sound Effect
New Armor and Weapons
New Spells
New Enchants
Lore Friendly
Riverside Lodge Player home (Located between Riverwood and Whiterun)
Ability to wear more than one Ring
Souls-Like Combat Overhaul
---
Before you start
This collection does not (yet) come with an ENB or SKSE Pre-Installed, since I don't know how to add them to the collection. Therefore, I recommend you to check out this Video on how to Install an ENB (https://www.youtube.com/watch?v=5rLAhxL02QA) and this Video on how to install SKSE (https://www.youtube.com/watch?v=IcBhQcVzCwQ). Just make sure you have all the correct versions and you should be good to go. For an ENB I recommend to use the Re-Engaged ENB (https://www.nexusmods.com/skyrimspecialedition/mods/1089)
Requirements For Multiplayer, everybody needs to Install the same gameplay enhancing mods. Either one by one, or all at once in this handy dandy collection. You'll also need to install the ENB of your choice on your own. http://enbdev.com/ https://www.nexusmods.com/skyrimspecialedition/mods/1089
It's also recommended to install SKSE. https://skse.silverlock.org/
Best practices You should also definitely follow any recommendations on how to use STR. Although the Devs recommend to not use any mods. All of the Mods in this Collection work just fine (tested) with STR as long as everybody in the Group has the same gameplay enhancing mods. You can install as many texture mods as you want, as long as they don't add new items to the game, that your friends don't have. There is also a List of Mods that are tested for STR. Feel free to install any mods on the list if they are in the Green and (on your own risk) if they are in Orange. https://docs.google.com/spreadsheets/u/0/d/1N_2iDod5ZRS1EB-okcPWNlqgNl2v3-yuzzWDuOSc6jw/htmlview
---
Recommended specs
GPU: GTX 1050 or higher (or whatever AMD's Equivalent is)
RAM: 8GB or more
CPU: i7 4770k or better
Lower specs might work just fine, but I cannot confirm it.
---
Other Mods and Collections
If you use any other Gameplay Enhancing Mods, you should be aware that the STR might not work correctly. To make sure it does work correctly, everybody in your Party needs to have all the same gameplay enhancing Mods installed.
If played in Multiplayer, the game may or may not crash occasionally and you'll (probably) see a lot of naked NPCs walking around. Those or Bugs from the Multiplayer Mod, that are sadly out of my control to fix.
This collection is also a work in progress. As I find and test Mods I like to have in the Game, I'll add them to this collection if I can confirm that they work with STR (or at least I don't find any major issues with the compatibility of the Mods).
---
In order to play Skyrim Together Reborn
After installing this collection, go to your Skyrim SE folder, open the Data folder, then the SkyrimTogetherReborn Folder and Launch the SkyrimTogether.exe It may or may not ask you to select your SkyrimSE.exe If it does, do so. Do not select the SKSE.exe or the SkyrimSELauncher.exe! Every time you want to play in Co-op with your friends, just launch the game over the SkyrimTogether.exe. I recommend you to either link it to your Desktop, your Steam Library or as a Vortex Tool. Whatever you like best.
In the Game you need to join a Server. I don't recommend to join a Public Server. Since these may break the Game at some point. Instead launch a Free Server from the Mod Authors Website: https://playtogether.gg/
Set your Settings and Group Password. In the game then you need to Press your Right CTRL to open the STR controls. Click on Connect and enter the Server information from the Play Together website. It's not recommended to play with old High level Save games together. Instead start a new character with your friends. Once out of Helgen, start the server and connect. From there one person needs to be the Party Leader and launch the Party. IMPORTANT: Whoever that person is, needs to stay Party Leader for the rest of the playthrough. This helps to prevent unnecessary Desync issues.
Every Quest will be triggered from the Party Leader for the Entire Party. Meaning only the Party Leader needs to talk to Quest Related NPCs. Everybody in the Party will be able to hear the Dialogue and the party leaders dialogue choices will be displayed in the Chatbox in the bottom left.
---
Enjoy!