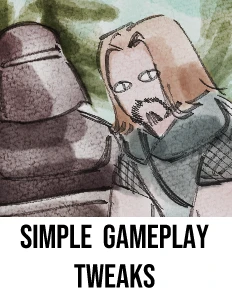 Small ADXP | MCO - based combat changes. Includes AC Valhalla inspired weapon movesets, Dodge attack cancelling and dual weapon parrying. Includes Valhalla Combat
Revisions

6

Last updated

1 month ago

Created

Aug 12, 2022

Downloads

13
Description
Started this collection to save me the hassle of redownloading my favorite mods whenever I reinstall Skyrim. This is my first collection so there might be a lot of changes.
Update:
Now that Valhalla Combat is officially released, I'll try optimizing compatible mods along with it.
---
Main features
AC Valhalla combat movesets for player character
Better jumping
Better enemy AI
Configure how many enemies will attack you simultaneously through Wait Your Turn - Enemy Circling Behaviour
EVG Animated Traversal
Paraglider
Optimized to be played with a controller
---
Before you start
Requirements
SKSE - Make sure to get the Anniversary build
I have attached some notes on several mods for instruction.
Nemesis Patches
Tick these patches in Nemesis;
Attack - Distar Experience
Precision
Payload Interpreter
(Optional) EVG Animated Traversal
(Optional) Skyrim's Paraglider
Poise
Retimed Hit Frame (This patch already came with Nemesis, highly recommended. It optimizes weapons' hit windows)
SCAR
Scriptfree staggerlock
True Directional Movement - 360 Horse Archery
True Directional Movement - Procedural Leaning
True Directional Movement - Headtracking
TK Dodge RE \ Ultimate Combat
Distar Unblockable
---
My collection was built with these as foundation;