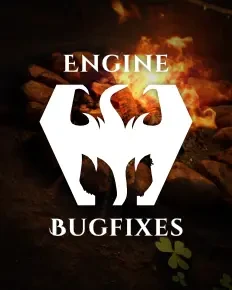 All-in-one engine bugfixes for Steam's Skyrim AE.
Elyem
Last updated:
|
Published:
Frequently Asked Questions
What is this?
It's all the essential engine bugfixes and tweaks for Steam's Skyrim Anniversary Edition, bundled together for easy installation.
Why do I need this?
These are essential for any mod list. Plus, some of these are required by other popular mods; install them all in one go right now instead of searching for them later on NexusMods.
Should I install the Skyrim Script Extender?
No. The latest Steam build will be installed automatically since it's a dependency for some of these fixes to work.
Do I have to configure SSE Display Tweaks?
Yes, if you want. It's a fresh install in this collection so all the settings are the defaults.
Do I have to install Part 2 of SSE Engine Fixes myself?
No. It's included and will be installed automatically into the root folder.
Will you add <suggested mod> to this collection?
It depends. The scope of this collection is purely bugfixes and tweaks—and their dependencies—for flaws that are rooted in the game engine, not records in master files.
Do I need your other collections to use this?
Only the required ones.
Will this work for SE?
This will not work for SE.
Will this work for the GOG version?
Maybe. This is tailored for the Steam AE build. Try it with GOG at your own risk.
Which Revision will work with game version 1.6.353?
Use Revision 7.
---
My Collections
An Easy To Install Foundation.
My modular collections are tailored together for a strong, technical base in any mod list; they are meant to be used as is, or safely overwritten as you build on top of it. Make sure to group your Mods using the Collections column for easier viewing!
---
Credits
The STEP project for inspiring this mod group, and all the talented authors.
Mods By
No mod authors found