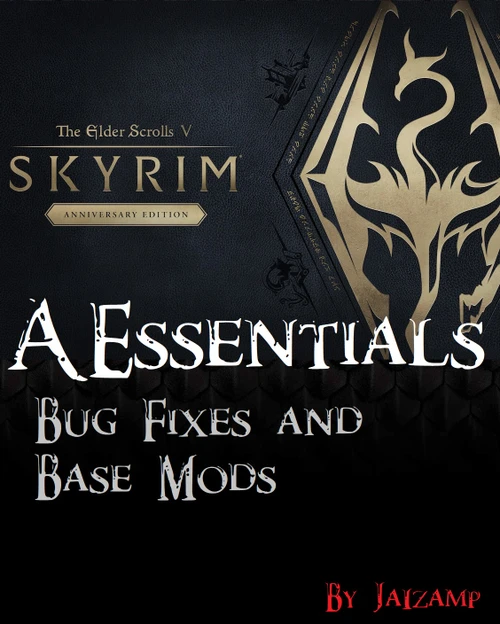 SKSE and Behaviours Essentials
Largest Collection of bug fixes and essential base mods for a heavy modded Skyrim AE that are based upon SKSE, the Skyrim Script Extender, and utilizes Nemesis (supersedes FNIS) to run behavior files. It is a base pack to start your modlist. Requires the anniversary update, game version 1.6.353 (Downgrade if you updated to 1.6.640). ⚠ Please read the description and instructions. Don't even try on a cracked game.
Revisions

7

Last updated

3 days ago

Created

Apr 08, 2022

Downloads

898
🤯Troubleshooting/Support
Support for all my collections via Discord
🇵🇹-🇧🇷 Suporte para todas as minhas coleções via Discord
🇪🇸 Soporte para todas mi colecciones vía Discord
---
Description
Cracked games ARE NOT SUPPORTED !!!

If you're looking for the Special Edition version (SE), it is here: - (SE) SKSE and Behaviours Essentials (For 1.5.97 Game Version)

It makes little sense to use this collection alone without my other essentials collection that covers Non-SKSE and Non-Behaviour (FNIS-Nemesis) stuff, you can download that one here: - Bug Fixes & Optimization (Non-SKSE) (Version Independent)
My personal list of absolutely essential mods. It contains a huge amount of Bug Fixes, Modders Resources, and Utilities, such as SkyUI, SKSE, FISS, JContainers, Nemesis Engine, and ENB Series. Most of these mods are base mods for many other mods, thus Essentials! Beyond that, this collection comes with fixes and improved behavior-animation mods, such as Stagger Direction Fix and True Directional Movement alongside TrueHUD. Only for Skyrim AE game version 1.6.353. I am sure your game will be much more stable with these mods; this list contains, for me at least, the minimum necessary to play Skyrim in 2022.
⚠⚠⚠ Do not use this collection (Nemesis Engine) with FNIS! Be warned. Just use NEMESIS! ⚠⚠⚠
Please follow the instructions, after doing it all, unless you're using a cracked game the collection will work! Don't forget I am offering support.
---
Instructions
1. Install all mods
2. Verify mod types for the following mods:
a) SKSE64 → Mod Type: Engine Injector
b) (Part 2) Engine Fixes → Mod Type: Engine Injector
c) d3dcompiler_47 → Mod Type: Engine Injector
d) ENB Series (if chosen from the optionals) → Mod Type: ENB
Check the mod type by double-clicking on the mod and scrolling to the mod type. Example:
Also, follow the instructions to edit the .toml file of Engine Fixes (part 1), since it fixes lots of things, it is built upon the installer. If you missed here are the instructions:
Change the file .toml that comes with this mod, open in file explorer, then open the .toml file with any text editor and change these lines to:
MaxStdio = 8192 # Sets the maximum number of open file handles (default 512), preventing the game from running out with large plugin counts (fixes false save corruption)
MemoryManager = true # Replaces Skyrim's global allocator
RegularQuicksaves = true # Makes quick saves into regular saves
SafeExit = true # Prevent the game from hanging while shutting down
SaveAddedSoundCategories = true # Save sound categories added by mods
ScaleformAllocator = true # Replaces the scaleform allocator
and this:
SaveGameMaxSize = true # Expands the maximum uncompressed size of a save game from 64 MB to 128 MB# can fix "crash on save" issue in long-runnning saves"
and any other you think it is necessary.
3. Deploy your mods (and sort plugins).
4. Run Nemesis Unlimited Behavior Engine from inside the Skyrim SE Data folder
Namely: YourGamePath\Data\Nemesis_Engine\Nemesis Unlimited Behavior Engine.exe or from the Vortex Dashboard (edit the tool folder yourself, if it does not work):
5. In nemesis, check the following boxes (at least what is available from those selected in the image, to you after downloading the whole collection) + anything exterior to this collection you've installed and
5.1 Update Engine and wait for the process to end.:
5.2. Launch Nemesis Behaviour Engine and wait for the process to end (it must tell you the how long it took).
5.3. Verify accordingly to the image that the process runned successfully and close Nemesis.
6. Start the game from SKSE64 executable inside your Skyrim folder or from within Vortex's Dashboard.
---
Help with ENB Installation
If the ENB feature isn't done fully/properly installed follow this guide.
Thanks to EmiliaViolet:
Go to http://enbdev.com/mo...rimse_v0475.htm, scroll to the bottom of the page, and click the download button (it's an arrow inside a box, next to the word download).
Download 7zip as well, if you don't already have it.
Extract the files.
Open the "WrapperVersion" folder inside the extracted files.
Select the files "d3d11.dll" and "d3dcompiler_46e.dll". Right-click and select "add to archive". When the archive window opens, change the name to something sensible, like "ENB Series v0.475", then click OK.
Drag that new file into the "Drop Files" area on Vortex's mods page, but don't enable it when it finishes installing.
Double-click the mod to open the details panel. Change the mod name to just ENB Series and the version number to...well, the version number, 0.475 in this case. For the source dropdown, select "other". For the mod type dropdown, select "ENB".
Now you can enable the mod and deploy it. I used this video as a guide, in case the visuals might help anyone else: Gopher's Video on installing ENB on Vortex.
---
My collections:
Essentials:
Vanilla Overhaul:
Gameplay, Immersion, and Animations:
Graphics, Models, and/or Visuals:
UI, Interface, Audio, and Quality of Life:
Additions
Tiny Packs Series