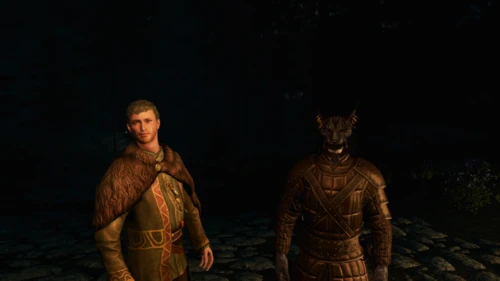 Simple collection/pack that adds 10 new followers, and addons to such followers that bring unique items and high poly appearances. Currently covering INIGO, Lucien, Auri (Song of the Green), Lucifer, Shirley, Hoth, and the four khajiits from Khajiit Will Follow.
Revisions

1

Last updated

5 days ago

Created

Jul 03, 2022

Downloads

48
🤯Troubleshooting/Support
Support for all my collections via Discord
🇵🇹-🇧🇷 Suporte para todas as minhas coleções via Discord
🇪🇸 Soporte para todas mi colecciones vía Discord
---
Description
Adds 10 new followers, my favorites, from Nexus. Does not edit vanilla NPCs whatsoever.
INIGO
Lucien
Hoth
Auri
Shirley
Bikhai
Nanak
S'ariq
Ma'kara
Lucifer (Optional)
How the f*** someone managed to downvote a simple collection with just followers is beyond me, I'll look at what might be wrong when I have time.
---
Requirements
Anniversary Edition version 1.6.353
or Downgraded Special Edition 1.5.97 with the Anniversary Update.
---
Where to find them
Under construction
INIGO: Riften Jail
Lucien: Dead Man's Drink - Falkreath
Hoth: Morthal's inn
---
Known Bugs / Incompatibilities
Under construction
None so far...
---
There is compatibility patches in other mods' fomods, so it depends. I'll put some links when I have time:
---
My collections:
Essentials:
Vanilla Overhaul:
Gameplay, Immersion, and Animations:
Graphics, Models, and/or Visuals:
UI, Interface, Audio, and Quality of Life:
Additions
Tiny Packs Series