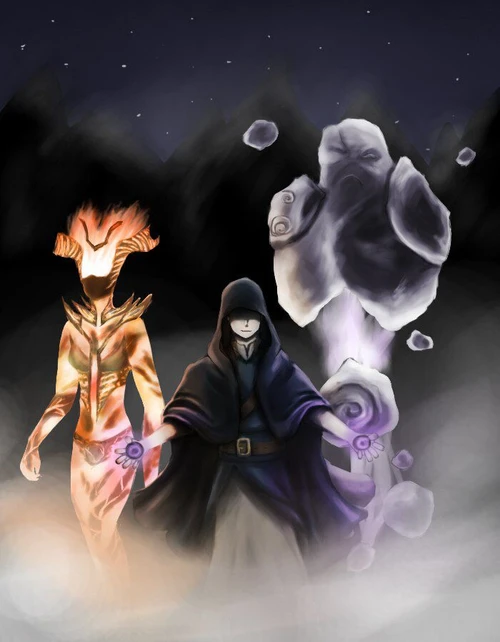 (SE) Pruzaan Lah - Magic Overhaul
[UNDER MAINTENANCE]Pruzaan Lah (Better Magic) is a complete and absolute total overhaul of Skyrim's magic system; adding hundreds and hundreds of new spells, reworking vanilla spells, changing spell casting animations, adding a hotkey system...
Ja1zinZamp
Last updated:
|
Published:
🤯Troubleshooting/Support
Support for all my collections via Discord
🇵🇹-🇧🇷 Suporte para todas as minhas coleções via Discord
🇪🇸 Soporte para todas mi colecciones vía Discord
---
Description
Pruzaan Lah (Better Magic) is a complete and absolute total overhaul of Skyrim's magic system; adding hundreds and hundreds of new spells from various different themed mods, it also reworks all vanilla spells and adds spells that were missing; it also reworks magic casting and magic idle animations. There is also a QOL mod to hotkey your favorite spells. Spell learning and spell crafting are covered as well. On top of that, in the optional, some visual mods are also recommended: retexture mods for scrolls, spells, runes, and magic effects, total compatibility with Ordinator - Perks of Skyrim and Summermyst - Enchantments of Skyrim. This page is only for Special Edition (1.5.97) since it requires its SKSE version. Magic is 10x times better and 100x times more fun."
Largest overhaul for magic available, complete reworks spell learning and discovery, spell casting, and spells overall. As summarized in the table below:
Vanilla Magic Rebalanced | Odin overwriting Mysticism patched with SkySunder Metamagics
Spell tome learning and craft | Spelltome Studies + Spell Research
Spell failure chance | Wild Magic Surge + Just Cast It - Magic Rebound
Staff System | Magic does things
New magic/spells | Dozens and dozens of mods, with the highlights being Triumvirate, Apocalypse, Forgotten Magic, Hemomancy, Elemental Magic, and Cosmic Spells.
In summary, there are hundreds of mods that add hundreds of new spells, spells now make more sense and are more balanced, and also harder to use, and harder to learn, but in the end, it should be compensating. You just need to configure the mods in the MCM, and that's all, magic will have a chance to fail, concentrating magic now matters. Honestly, it is so many things I could be writing here for a long time.
If you are not going to use the optional mods you need to create a bashed patch.
I strongly recommend using this collection with College of Winterhold Overhaul to overhaul Skyrim's Magic completely with all the quests and stuff.
---
Requirements
Skyrim downgraded to 1.5.97 using the best of both worlds downgrader.
Please, use it on a new save, if possible.
AE (1.6.353) version will be only made upon request or when I have time.
---
Optionals
What are the mods in the optional:
Ordinator - Perks of Skyrim and its patches with this collection;
Summermyst - Enchantments of Skyrim and its patches with this collection;
Strange Runes: visual overhaul for magic hands and wards;
Visual tweaks and overhauls for various magic-related objects: scrolls, spell books, staves, magic projectiles and more;
Throwable items and patch with Elemental Destruction Magic.
Complete patch for all the collection work perfectly.
---
Instructions
Some mods come with installation instructions, follow those.

Make sure SKSE64 and Engine Fixes part 2 are designed as engine injectors:
If choosing the optional mod Bard Magic Overhaul:
After everything is downloaded you'll need to Run Nemesis Unlimited Behavior Engine from inside the Skyrim SE Data folder Namely: YourGamePath\Data\Nemesis_Engine\Nemesis Unlimited Behavior Engine.exe or from the Vortex Dashboard (edit the tool folder yourself, if it does not work):
tick Bard Magic Overhaul, update the engine and launch it.
Independently in the end either FNIS or Nemesis must be run (please don't use FNIS).
---
My collections | Build Your Modlist:
Essentials:
Vanilla Overhaul:
Gameplay and Animations:
Immersion packs
Graphics, Models, and/or Visuals:
UI, Interface, Audio, and Quality of Life:
Additions
Tiny Packs Series
❗ Every collection of mine is tested on a brand new Steam installation (downgraded to 1.5.97 or 1.6.353) before upload, so, they all absolutely work and I make sure of it. All of my collections are semi-compatible with each other (except the SE and AE counterparts, of course), you can use as many as you want to build your modlist and then manually tweak them, make your bashed patch, or whatever. If you have any questions or uncertainties, feel free to contact me on discord or here on Nexus.
❗ (~Version Independent) means you'll need one of my four SKSE-dependent essentials collections (for downgraded to 1.5.97 or 1.6.353).
Mods By
No mod authors found