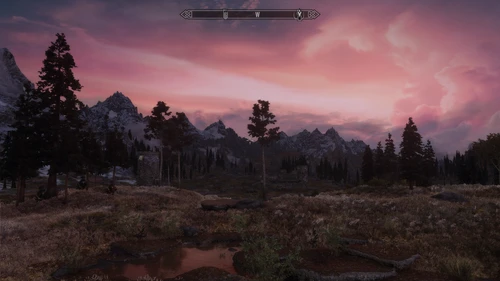 This collection overhauls the graphics and landscapes of Skyrim to turn it into a stunning fantasy land! To help with immersion, it also utilizes AutoBody to generate unique body shapes and sizes and Modpocalypse to overhaul the appearance of NPCs. This mod also provides better character customization, and armor and weapon mods to further customize your character. And to make the gameplay more interesting this mod pack also includes Imperious Races, Ordinator Perks, Unique Standing Stones, Diverse Dragons and much more!
Revisions

1

Last updated

2 months ago

Created

Aug 10, 2022

Downloads

11
Modpack that includes AutoBody to generate unique bodies based off presets in collection. In Body Slides Outfit/Body needs to be under CBBE 3BBB SMP Object - Player, and Preset needs to be zeroed sliders. Feel free to add your own body presets, some of my favorites are included in the collection. You also need to install Microsoft Visual Studios for this mod to work. Please refer to the mod page for more information on the mod, but that's the basics.
Other Key Features: Graphics and Landscape Overhaul, Character Customization, Rudy ENB and Cathedral Weathers, More Spells, Ordinator Perks, Imperious Races, More challenging and Diverse Dragons, Bikini/Skimpy Armors, More Followers and Children (including new follower Sofia), Better Soul Gem Mechanics, Immersive Weapons and Zim's Immersive Artifacts.
This modpack may have some terrain issues, but with 20 + hours of using it, I haven't found many places that were messed up and none were game breaking. DynDOLOD is bundled in this collectioin, if you want to add or remove landscape editing mods, you will need to disable or remove the bundled DynDOLODs and remake your own. Furthermore this collection utilized DX Armors All in One, please refer to the page for proper installation of this mod. Essentially, you will need to disable or remove the esp plugins for the mods and only keep the esp for the All-in-One. Unfortunately, not all the mods are named with DX so you will need to hunt those down, I found it easiest to sort by the different names like Celes and Gwelda and then individually find the rest. Perhaps this collection will automatically have those disabled in which case you won't need to worry about that. When building the body slides for the armor, as mentioned above, you will need to build under zeroed sliders and I found it easiest to select all for the batch build then select the physics options and if they have it, select 3ba or 3BBB (note you can use tab and arrow keys if using the keyboard is easier than clicking the mouse).
Best of luck and I hope you enjoy!