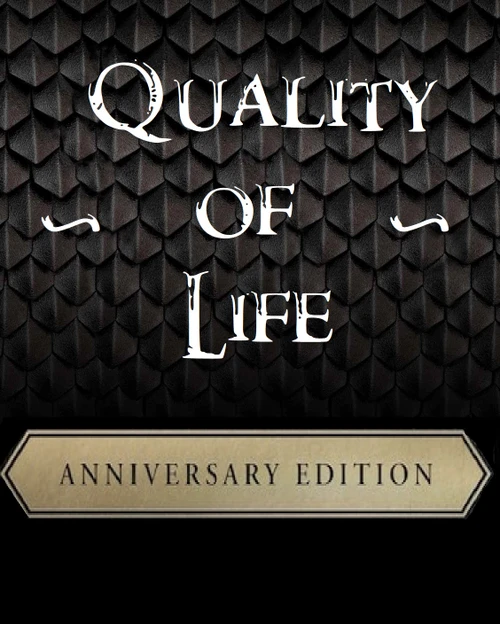 Large collection featuring amazing Quality of Life mods from the community, mods you didn't know you needed until now. Only for Anniversary Edition (1.6.353). SE version is in the description.
Revisions

3

Last updated

18 hours ago

Created

Aug 23, 2022

Downloads

125
🤯Troubleshooting/Support
Support for all my collections via Discord
🇵🇹-🇧🇷 Suporte para todas as minhas coleções via Discord
🇪🇸 Soporte para todas mi colecciones vía Discord
---
Description
Only for Anniversary Edition, if you're looking for the SE version:
Just QOL mods, featuring mods you didn't know you needed. Equip without adding to inventory first, buy what is on display at stores, oxygen meter, hotkeys for potions, pick up similar items in a specific radius, inventories for mounts, hide your quests, and much more. Take a look at the list. Totally editable via MCM - Mod configuration menu.
Please, if the collection has some error or won't work for you warn me via discord or nexus forums above.
---
Compatibility and patching
USSEP sometimes requires patches, each case is specific and sometimes it is irrelevant.
---
Simple instruction
Make sure Engine Fixes part 2 and SKSE64 are set as modtype = engine injector like the figure below. You just have to double click the mod.
My collections:
Essentials:
Vanilla Overhaul:
Gameplay, Immersion, and Animations:
Graphics, Models, and/or Visuals:
UI, Interface, Audio, and Quality of Life:
Additions
Tiny Packs Series