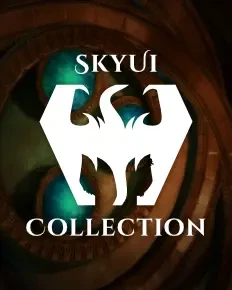 A SkyUI-oriented UI overhaul for Steam's Skyrim AE.
Elyem
Last updated
|
Published:
Frequently Asked Questions
What is this?
A compilation of the most valuable and compatible user interface mods to create a fully featured, vanilla++ UI overhaul based on SkyUI for Steam's Skyrim Anniversary Edition.
Why do I need this?
It's an easy-to-install UI overhaul, so that you can move on with your mod list. You'll also have a whole new enhanced vanilla experience; the vanilla UI artwork is something to appreciate!
What else do I need for these to work?
Install all the dependencies with my Engine Bugfixes & Tweaks and Functionality Extenders collections. It includes SKSE and the Address Library, respectively.
Is this compatible with ENB?
Absolutely!
Nope. It's not compatible with TrueHUD. There's workarounds, but that defeats the purpose of an easy-to-install UI overhaul collection.
Can I use this with <suggested-mod>?
I don't know. You'll have to do your own in-depth research. All the mods in this collection are meant to be used together through natural compatibility or conflict resolutions. Anything out of this scope is not my concern.
What mods are you using in the screenshots?
Apart from everything in this collection,
HD Characters collection (W.I.P.)
HD Creatures collection (W.I.P.)
Do I need your other collections to use this?
Only those listed as requirements.
What do I do if Vortex installs the optional mods by mistake?
Just deactivate (recommended) or remove them.
Will this work for SE?
This will not work for SE.
Will this work for the GOG version?
Maybe. This is tailored for the Steam AE build. Try it with GOG at your own risk.
---
My Collections
An Easy To Install Foundation.
My modular collections are tailored together for a strong, technical base in any mod list; they are meant to be used as is, or safely overwritten as you build on top of it. Make sure to group your Mods using the Collections column within Vortex for easier viewing!
---
Credits
The STEP project for listing some of these mods and inspiring my own take on the Interface mod group, and all the talented authors.
Includes mods from
21 authors
No mod authors found