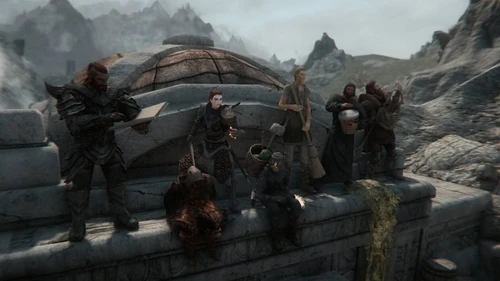 Skyrim Together Reborn framework
Base modded framework for Skyrim Together Reborn (ST:R). All mods have undergone tests for about 10h, finding no game-breaking issue. Use this as your starting point for your modded MP experience.

Riazer
Last updated:
|
Published:
Description
This collection is intended as a base framework for modded ST:R experience. All mods rights to their respective authors. There are currently no known game-breaking bugs with this set of mods, aside from very occasional crashes (which are to be expected). If you find any compatibility issues with other mods, help the community and report it!
Main features
As you can see from the collection, these hand-picked mods were chosen to improve the core mechanic of the game and rebalance major aspects. Major graphical overhauls have been avoided in order to keep the collection lite and fully customizable.
---
Before you start
This collection is based on Skyrim AE. As expressed in ST:R FAQs, for the most stable experience delete CC content from your skyrim data folder (i.e any file starting with CC in its name). Once you have done that download the compatible SKSE that does not require CC content (i.e 266-4-2-5b works).
Requirements
Best practices Here are a few tips in regards to which mods you should (not) pick to complement this framework:
Avoid script-heavy mods, often enough scripts fail to synchronize through ST:R leading to bugs, crashes and so on.

Avoid animation mods, to my understanding and experience animation mods cause heavy desynch while playing multiplayer, and currently the use of Nemesis breaks the walking/slow run animation cycles.

Avoid any mod that gives custom racedata to NPCs, as they fail to properly communicate through ST:R leading to crashes.
Any mod that doesn't end up in the previous 3 cases should be fine to use.
---
Includes mods from
27 authors
No mod authors found