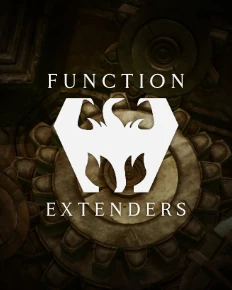 Functionality Extenders
All-in-one functionality extenders for Skyrim AE.
Revisions

6

Last updated

1 week ago

Created

Apr 19, 2022

Downloads

189
Frequently Asked Questions
---
What is this?
It's all the popular functionality extenders for Skyrim Anniversary Edition, bundled together for easy installation.
Why do I need this?
You'll never have to worry about needing to download SKSE and Papyrus dependencies again; Install mods like iEquip, Turn of the Seasons, Immersive Horses, etc., a lot easier!
What else do I need for these to work?
Install all the lower-level dependencies with my Engine Bugfixes & Tweaks collection. It includes SKSE, Address Library, and the SSE Engine Fixes' plugin loader.
Should I install the optional mods?
Maybe...
Do I need your other collections to use this?
Absolutely not, but they work together nicely. I would recommend to use them though, since you'll have a solid foundation to build your mod list off of.
What do I do if Vortex installs the optional mods by mistake?
Just deactivate (recommended) or remove them. The collections feature is still in early testing stage so there's bound to be bugs. Report it!
Will version updates for these mods ruin my mod list?
Maybe. I will do my best to keep the version checks in this collection up to date and check for incompatibilities with mods in my other collections.
Will this work for Pre-AE?
No. All my collections will only include mods and rules that are updated for the latest Skyrim and SKSE versions.
My Collections
---
An Easy To Install Foundation.
My modular collections are tailored together for a strong, technical base in any mod list; they are meant to be used as is, or safely overwritten as you build on top of it.
---
Credits
The STEP project for listing some of these mods and inspiring my own take on the Extenders group, and all the talented authors.
Success rate
The percentage of users saying this revision is working as expected.