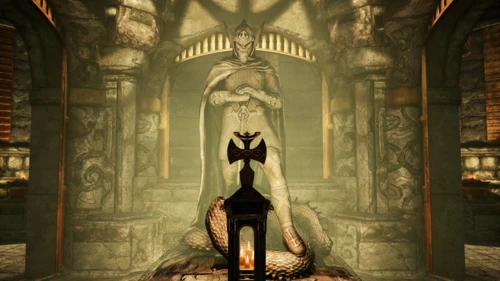 Quest expansion and tweaks for several vanilla quests. Adds more choices and more logical options for the player to pursue, fixes inconsistencies, and overall expands the quests. But I'd say the main goal is to add mods that add options for the player. Completely version independent. Patches are available in the optional mods, alongside other ones. Pay attention to compatibility in the description section.
Revisions

3

Last updated

2 hours ago

Created

Aug 19, 2022

Downloads

85
🤯Troubleshooting/Support
Support for all my collections via Discord
🇵🇹-🇧🇷 Suporte para todas as minhas coleções via Discord
🇪🇸 Soporte para todas mi colecciones vía Discord
---
Description
It edits, changes, and expands several quests from the original game, so pay attention to other exterior mods you download to avoid conflict.
What about guild quests?
I am working in specific guild-related collections, which you can check below:
College of Winterhold Overhaul (Version Independent)
The Companions Extended (In preparation)
Thieves Guild Overhaul (in preparation)
Dark Brotherhood Overhaul (in preparation)
In addition for a complete overhaul of Dawnguard and Dragonborn DLCs I have:
---
Compatibilty / Patches
Under construction
Destroy the Silver Bloods conflicts with Somebody else's problem and Cidhna mine expanded which are in this collection, I made a patch but I have to test first!
Boethiah's Bidding is incompatible with the optional CWO - Civil War Overhaul, if you don't want this overhaul for the civil war, you can download Boethiah's Bidding.
Bards Reborn have some patches in its page, it even has a newer version, but I don't use that one.
At AFK mods there is the excellent Get Both Rewards, which I didn't verify for patches, it probably conflicts with BUVARP SE RE (which is in this collection), I am not sure.
The Choice is Yours is incompatible with several other mods, but you just have to make sure it is loaded before everything.
---
Requirements
Skyrim Special Edition updated (Anniversary Edition or Downgraded 1.5.97 Edition)
You need the anniversary update, if you don't, you have to search and download an older version of USSEP accordingly to your game version.
---
My collections:
Essentials:
Vanilla Overhaul:
Gameplay, Immersion, and Animations:
Graphics, Models, and/or Visuals:
UI, Interface, Audio, and Quality of Life:
Additions
Tiny Packs Series