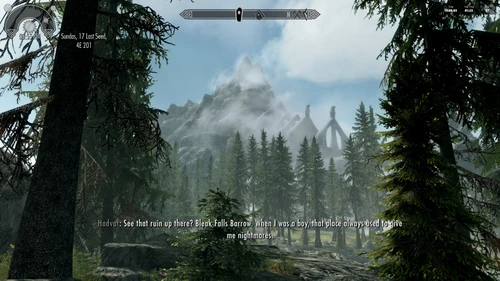 The current mod list from my current play-through.
Revisions

9

Last updated

6 hours ago

Created

Aug 04, 2022

Downloads

36
Description
This is an almost complete list of mods I am using in my current play-through with Jarrina, a Redguard Spell Sword, and a possible assortment of followers. I've used a utility from Darkfox127 to select which Creation Club mods are active. There are a few Redguard presets included. The vanilla body was replaced with UUNP variants, 4K poly head, and Bodyslide 3D was also used.
I'm thinking now of breaking this list down into sections like The Basics (Game Fixes, UI, Restored Content, Animation, Character Models), Plants and Things (Texture Upgrades for Plants and Objects), you get the idea. My thinking is that it might be easier to download in the future, and will help find those mods that aren't playing nicely together.
---
Main features
A large assortment of 2K textures, new settlements, weather, sounds, clothing, plants, and creatures ESL flagged mods used where possible as there are over 300 mods and I'm constantly updating the list.
---
Before you start
BE ADVISED: Skyrim SE has been updated several times in the last few weeks (currently 1.6.659.0. if you bought the new DRM-free GOG release). With this in mind, some of the mods that were needed for my mod list have been broken because dependencies like Engine fixes and animation libraries have been broken. I'll be trying to update the list as those mods are updated.
There are several mods, SKSE, Arthmoor's various city and other mods, 4k poly head, and other utilities that you will need to download and install manually as they are not on the Nexus. Links to those mods should be included.
Requirements SKSE 2.2.1, Skyrim SE 1.6.640
Best practices
Create a new profile. This collection includes Legacy of the Dragonborn, which often works best from a fresh start, even when updated.
---
Recommended specs
Hardware setup suitable for this collection.
AMD Radeon 5500XT
32 GB Ram
Ryzen 3600X CPU
---
Compatible collections
Your mileage may vary depending upon what the other collections overwrite.