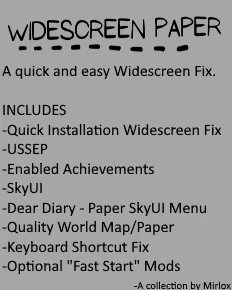 Widescreen Paper Skyrim/Fast Start
Quick and Easy *3440x1440 Widescreen Fix I use when starting my modding journey.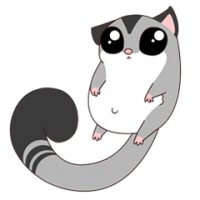 Mirlox
Last updated
|
Published:
Description
Being someone who uses a Widescreen Monitor I find it tiring to fix the lack of widescreen support every time I re-install Skyrim. To fix this issue I have made a collection I use to get my game ready for modding.
This collection is intended for people using *3440x1440 Resolution. In theory it should work with other widescreen resolutions but I cannot say with certainty as I do not use other resolutions and cannot test this. But if you would like to try please note that you will have to tweak your SkyrimPrefs.ini to match your preferred resolution.
---
Main Features
Quick and easy Widescreen Fix: A few clicks and you will have a fully functioning Widescreen Skyrim!
SkyUI: I can't play without it. Unfortunately even when using the Widescreen fix included with this collection it still doesn't function with *3440x1440 resolutions. To fix this I have also included the next mod listed.
Dear Diary - Paper SkyUI Menu: I don't create mods. So I can't tell you the technical reason why this mod allows SkyUI to work with *3440x1440 Resolution but it does. So for the sake of consistency I have also added the following mod.
Quality World Map/ Paper Map: This is just to keep up with the overall theme. If you don't like it you can easily disable it/ uninstall it. If I find people don't like it I can make it optional in the future.
---
Optional Mods
Simple Skyrim Special Edition Logo Remover: For when you're impatient like me.
Keyboards Shortcut Fix: For people who want to be able to 'Alt F4' out of the game when Mod testing and for those who want to control the volume using their keyboard (if it has the ability). This mod has a few extra steps because it requires manual installation of xSHADOWMANx's DLL Loader. The DLL Loader can be found in the link below.
xSHADOWMANx's DLL Loader: https://www.nexusmods.com/skyrimspecialedition/mods/3619/?
Alternate Start - Live Another Life: Again, for those like me who are impatient or just tired of seeing the same drawn out scripted intro.
---
Before you start
Make sure you have launched the game at least once before installing this collection.
Create & Enable a new profile on Vortex to prevent any conflicts with other mods you may have installed.
Requirements
Obviously if you are installing this collection you should at least be using a widescreen resolution. This tweaks you SkyrimPrefs.ini to fit a *3440x1440 resolution. So if you aren't using that it's going to throw your resolution off.
---
Compatible collections
I can't say for sure at the moment. In the future I will test this with other collections and give more detail on the steps needed to make other collections compatible. Seeing as most "major" collections appear to use SkyUI already I can't see why it should conflict unless you opt in for the optional mods such as 'An Alternate Start'.
---
One Final Note
This is my first collection. It's a little odd to see how far mods have come. To think that we can install mods for others now through these collections is pretty cool. That being said I hope this works the first time around. If not please do not hesitate to let me know so I can update and fix whatever is needed.
---
Don't Forget to Endorse the Mods used in this Collection if you like them!
---
Includes mods from
7 authors
No mod authors found