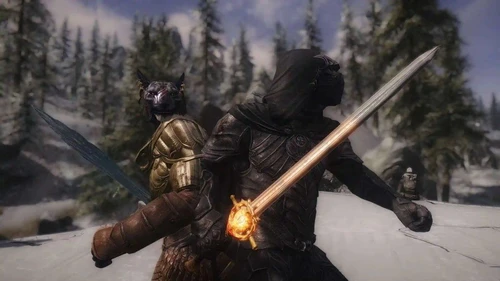 A list of mods meant to be played with Skyrim Together Reborn. Mainly overhauled combat, locations and progression trying to keep it as vanilla friendly as possible. I'm no expert, I have no idea what I'm doing I only know it works and don't know how.

NightMoon97
Last updated
|
Published:
Small-ish mod list aimed to overhaul combat, progression, locations, and immersion in the most vanilla-friendly way possible. Lightly tested, doesn't crash on a 2 hours normal playthrough.
If it crashes don't ask me why, I have no idea what I'm doing.
Mods resume:
Combat overhaul: Aimed for third-person experience with True directional Movement, TK Dodge, Wildcat and Arena Movement. Environment: Combination of JK's Skyrim, the Great Cities series, and Cities of the Nord. Progression: EXperience, Skyrim unleveled and Skyshards, do not expect to kill a dragon in lvl 1.
Other files:
Working with SKSE AE
ENB series, the mod list includes Rudy ENB, download and install the latest version of the ENB series for it to work.
Known bugs:
Sofia: Sofia followers tend to crash when people get near her in Whiterun, a workaround is for everyone to play singleplayer until meeting Sofia in the Whiterun stables, talk to her and get 1 player to keep her as a follower, the rest ditch her on an unknown player and forget about her, then meet up on multiplayer ad normal.
Song of Green: textures seem to not work on Auri, Im working on how to fix it.
True Directional Movement: Target lock not working despite the TK Dodge patch, working on a fix
Includes mods from
82 authors
No mod authors found